To achieve a society where all can live together,
where all can live fulfilling lives.
Panasonic wants to create a society where
Universal Design allows everyone to be their best selves.
Disabilities, age, nationality, gender, values,
lifestyles, working styles, family composition….
We want to create a world where we all respect the differences between us as part of what we are,
to allow us to strive to achieve our goals.
To allow us to dream big, dream freely.
We will push to achieve this
through technologies and ideas.
And we will foster a wealth of values through
dialogues with a diverse range of peoples and societies, and the planet itself.
We believe a future no one could imagine will be
born from freeing our individual potentials.
The object of our company's UD is to provide greater consideration to more people through its products and services, there by realizing a lively, comfortable and richer lifestyle.
We work with these six basic principles to actualize our UD Policy.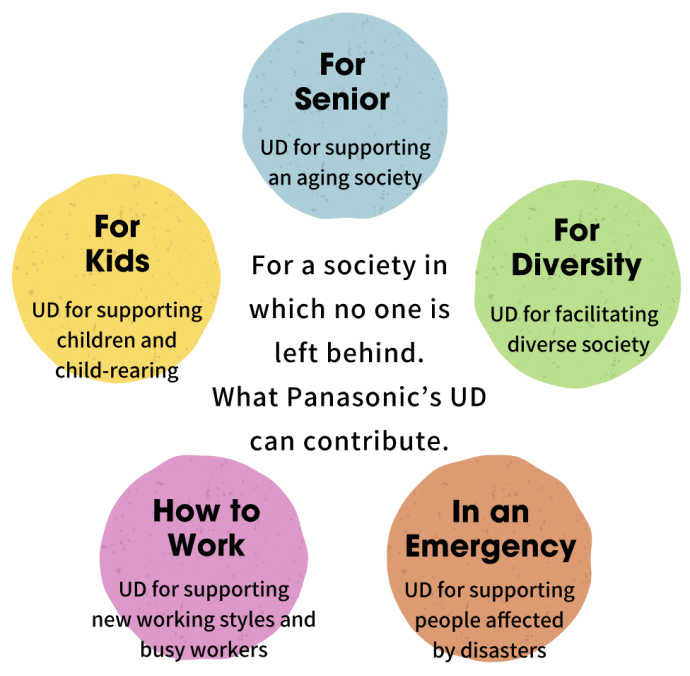 The elderly, children and their parents, working people, diverse people:
Panasonic aims for a society where all can live as they want.
Our goal is for everyone to be safe, even in an emergency.
We believe that the power of UD can open the way to a sustainable future.



*This Universal Design website has also been revised thanks to feedback from a range of people to improve its accessibility to as many people as possible.