In 1932, 14 years after the company's founding, Konosuke Matsushita realized the true mission (Meichi) of the industrialist. The following year, in 1933, Konosuke moved his headquarters to Kadoma to seek further business expansion. This exhibition presents the reasons for this relocation and the company's later expansion. With support from Kadoma City and Keihan Holdings, we also look back on the changes that have taken place over time in the city of Kadoma.
With thanks to Kadoma City, Keihan Holdings Co., Ltd.
Note: This content has been edited for online presentation. It was originally presented in a special exhibition held at the Konosuke Matsushita Museum from April 28 to Saturday, June 30, 2018 , titled "Kadoma and Konosuke Matsushita—A Commitment to Further Growth."
Konosuke founded his company in the Ohiraki-cho district of Osaka. From producing wiring fixtures, he expanded his business to battery-powered lamps, electric heaters, and radios. He was beginning to feel that his business had a mission, and in the spring of 1932, he realized the true mission of the company.
From the house where Panasonic started to the first head office
The depression that began in 1920 soon after the end of World War I deepened, but Matsushita Electric continued its steady growth. By the fall of 1921 I realized that we could do no more to maximize the use of space in the Ohiraki-cho house, and that we desperately needed new facilities if we were to meet the ever-increasing demand.
[…]
The new factory would be the foundation upon which I would become a full-fledged businessman, and as it neared fruition, my confidence grew. The construction of that plant, indeed, was a turning point in my early career; it marked my commitment to the subsequent development of the business.
From Konosuke Matsushita, My Way of Life and Thinking, 1954
This building, which we built in 1929, was very large for the time, and as I recall the cost was around 70,000 yen.
We built a residence next to the factory, where Mr. Matsushita took up residence.
Conversation with the president of Nakagawa-gumi , builder of the second head office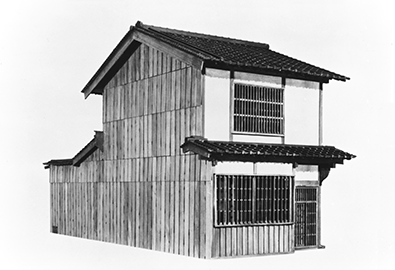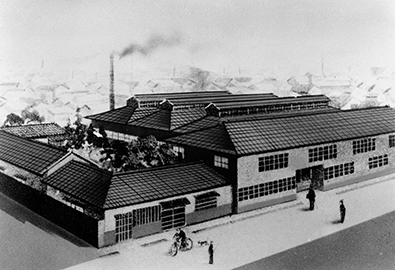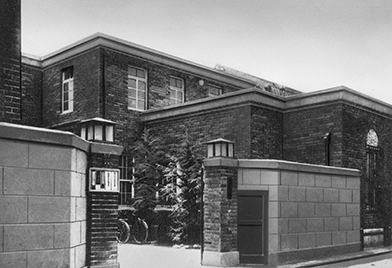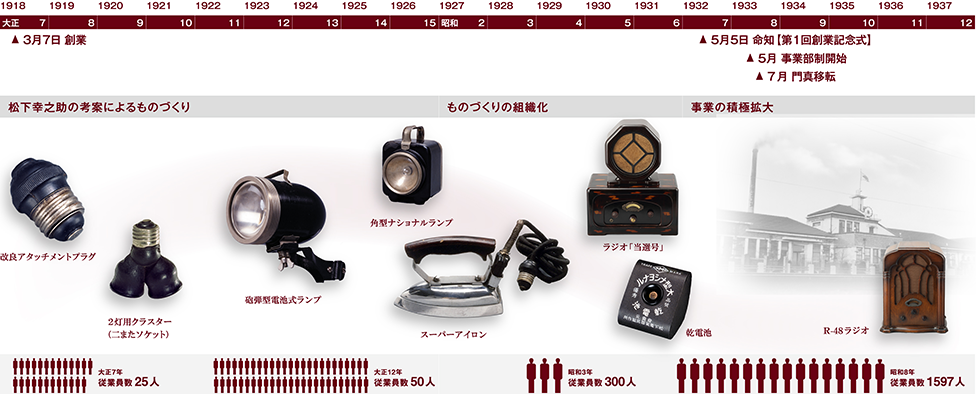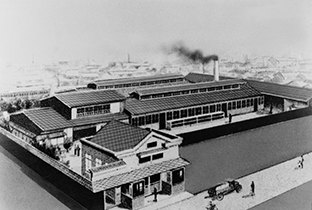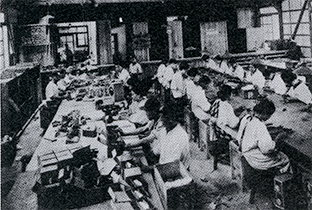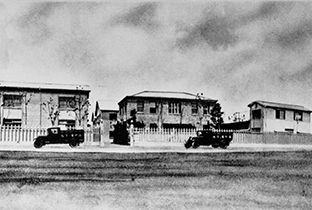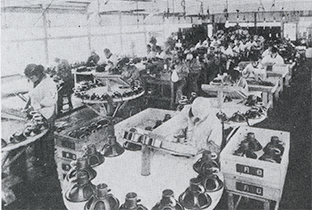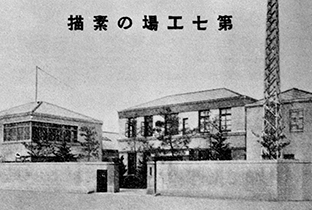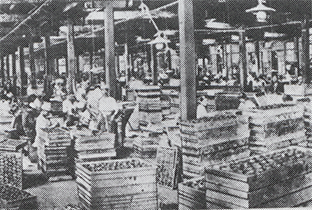 The business subsequently grew at an accelerating pace. Even with all factories at full capacity, the company was unable to meet the demand. In response, Konosuke decided to purchase additional land around the site in Kadoma where he had planned to build an Employee Training Institute, and use it to build several new factories.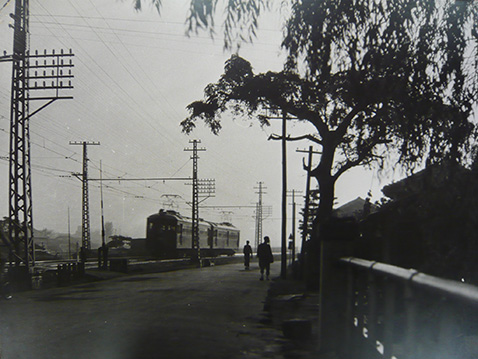 Reasons for relocating to Kadoma
In 1932, the volume of orders coming in to our factories was growing day by day. Despite maximum efforts at each one to boost production, the company was prospering so wonderfully that they still could not keep up, and we were faced with a pressing need to build new factories. At the time we had been discussing the idea of building the Employee Training Institute. A suitable plot of land had been located in Korien, and Mr. Matsushita directed me to purchase it. As I was traveling by the Keihan Line to Korien, I noticed a large plot of land just past Moriguchi. Impressed, I continued on to Korien, where I discovered that the lot in question was different from what we had expected, and not suitable for construction of the Employee Training Institute. Consequently, I decided to leave the discussion pending, and return to my office. On the way back, I thought about the need to build new factories and got off the train at Kadoma. I asked one of the locals about the owner of the plot of land I had seen earlier, and was told it belonged to a local agricultural association . I therefore immediately went to call on the head of the association, a Mr. Zenbei Kisaki.
From statement by Masakazu Ishii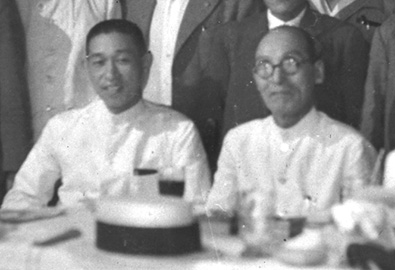 Our reason for moving to Kadoma was that our existing factories were unable to fulfill the orders that increased day by day. Thus, our biggest challenge was expanding production. Matsushita Electric needed to build a fully configured, large factory. I looked all over Osaka City for a suitable site, but this proved to be more difficult than I thought. Ultimately, I decided to build the head office and factories on a piece of land in Kadoma that we had already bought. Then people began saying that Kadoma was situated in an unlucky direction relative to Osaka, and I had better not build on the land. I was determined to relocate to Kadoma, but matter of the inauspicious direction was a problem. As I pondered the problem, it occurred to me that if the northeast was an unlucky direction, most locations in Japan would fit the same description. For the most part, Japan stretches from northeast to southwest. Therefore, if the northeast is an unlucky direction, most locations in Japan would also be unlucky. Kadoma was indeed situated inauspiciously with respect to Osaka. But this in itself was nothing to worry about. When I realized this, I felt suddenly relieved, and resolved to relocate to Kadoma.
From Konosuke Matsushita, Decisive Management (Japanese only) (1979)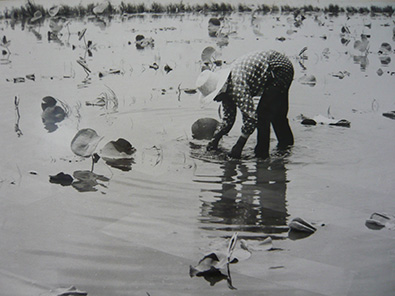 Construction included a radio receiver factory, a metals and bakelite factory, the Employee Training Institute, and the third head office, which would become the prototype for the Konosuke Matsushita Museum. Construction was completed in July 1933, and on September 18 a completion ceremony was held.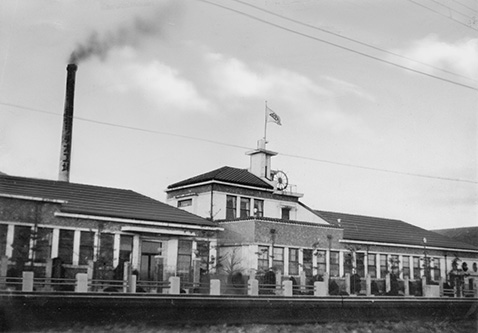 May 5, 1932 was an important turning point for Matsushita Electric, the day we recognized our new corporate mission. From this day onward, the management philosophy of the company became firm and unswerving. In 1932, I decided it was time to realize my long-cherished dream of a staff training school and began to look for a location. After a long search, I finally found a possible plot of land in Kadoma. […] The factory that Nakagawa-gumi began building in September 1932 was completed auspiciously on June 21, 1933.
I wanted the public to see the new buildings, and I wanted to explain the true internal circumstances surrounding the construction of the head office. I therefore published the following message of greeting.
From My Way of Life and Thinking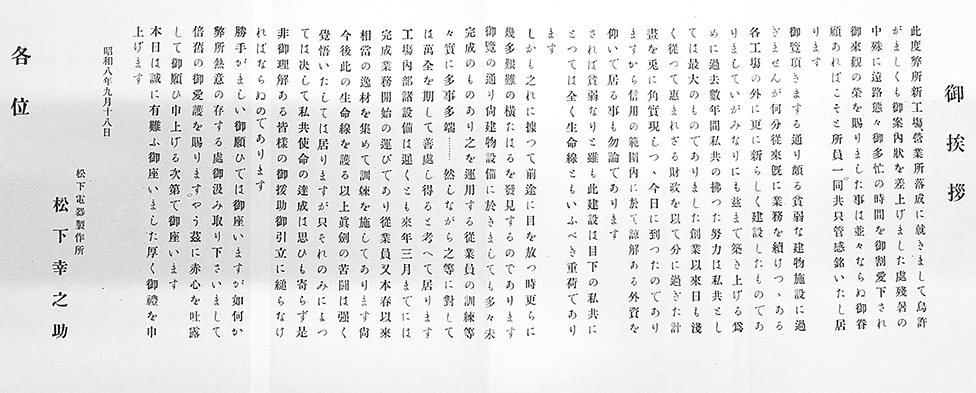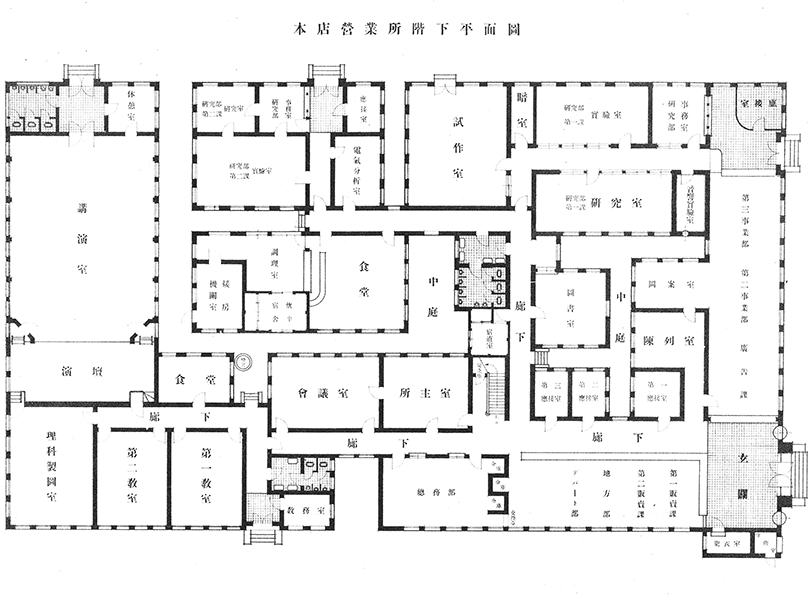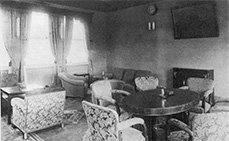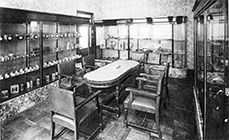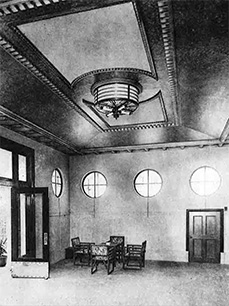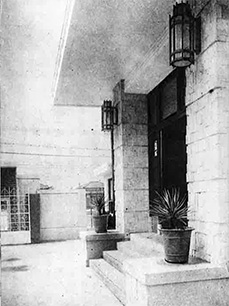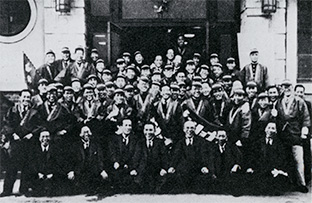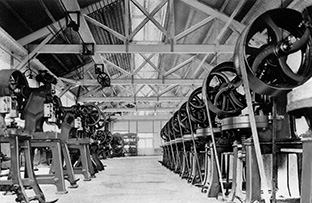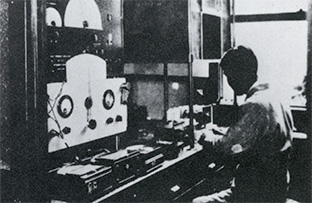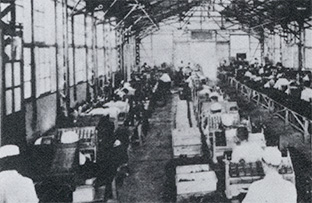 Employee Training Institute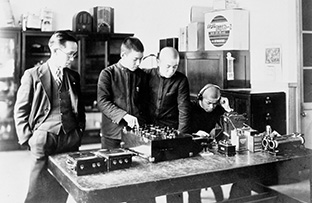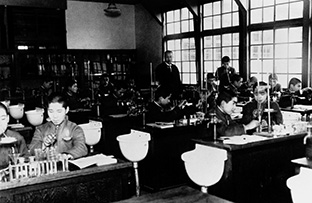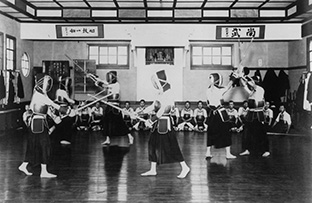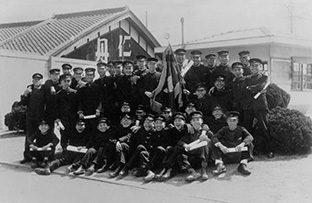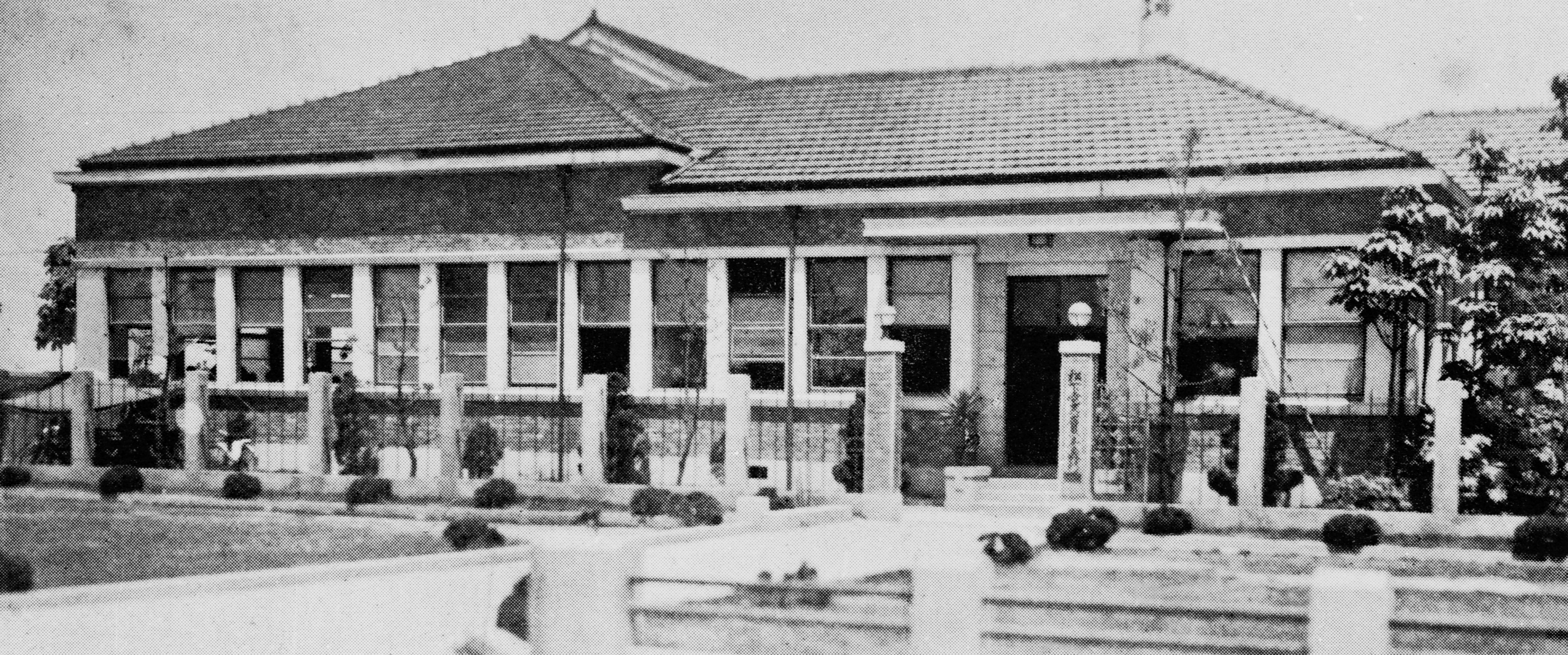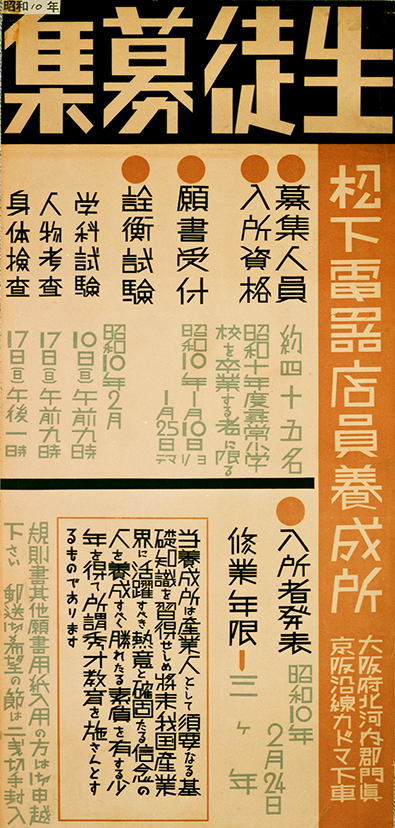 The Kadoma factories were a great step forward in the production of radios, the company's mainstay business at the time. The component business was also flourishing. As time went on and the head office changed its location, its address of record has remained the same to this day: 1006, Oaza Kadoma, Kadoma-shi.
The radio division had been operating in the same building since the move to Kadoma. But in late 1959, under the policy of making every plant a world-class production facility, the legendary Kadoma factory was dismantled and replaced by a dedicated, advanced radio assembly factory. The company launched transistor radios to the market in 1957. Their production had begun in 1955 at 500,000 units per year and exceeded 2.3 million units in 1960. The radio component division built one new factory after another—for speakers, electrolytes, resistors, and more. In addition to radios, the division manufactured components for televisions and communications equipment, and began supplying other manufacturers. As a result, a separate Electric Components Business Division was spun off from the Radio Business Division.
From Matsushita Electric's 50-Year History (Japanese only)

Matsushita Electric Works (today's Eco Solutions Company)
After the war, Matsushita Aviation Industries returned to its proper activity of manufacturing wiring fixtures. On November 15, 1945, the company was relaunched as Matsushita Electric Works, Ltd. But the Akashi Plant, the main factory for manufacturing wiring fixtures, had been completely destroyed during the war, along with all of its design drawings, molds, and other equipment. A research department was established to recreate drawings for all wiring fixture products and worked to achieve higher quality than ever amid postwar shortages in equipment and materials. In 1953, the company resumed sales of electric appliances it had sold before the war. In particular, the MS-10 electric razor, which was announced in December 1955, was one of the new postwar products launched simultaneously in the Hatsuni (first shipment in the new year) ceremony in January 1956. It signaled Matsushita Electric's full-scale entry into the personal-care appliances field, and sales were further propelled by the home appliances boom that began in earnest that year. On September 15, 1964, the Kadoma head office's New Main Building, which exists today, was completed. Everything used in construction, from lighting equipment to electrical and building materials, was manufactured by Matsushita Electric.
From Matsushita Electric Works' 50-Year History (Japanese only)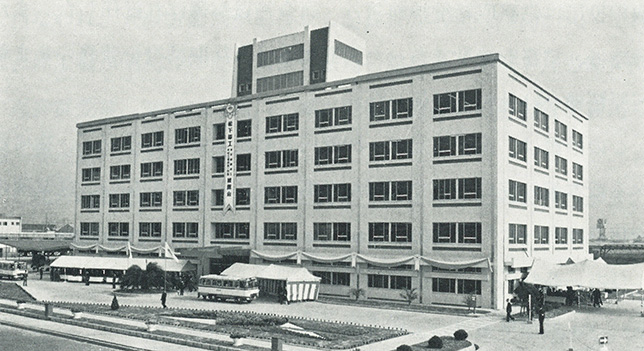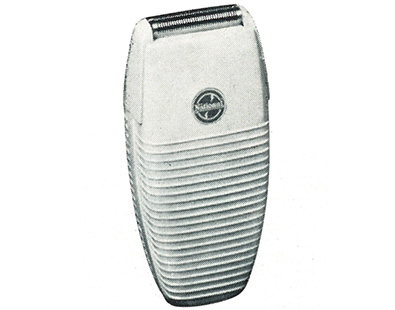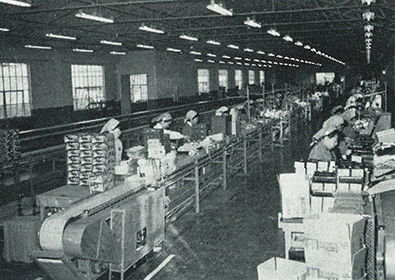 The Sakura Hiroba is the site of the former head office
In November 1939, the Sales Division was established at the head office. This new division took over all sales functions from the group companies, and this required an expansion of the head office. At the time, the first floor of the Shoshin-ryo dormitory, which was adjacent to the north side of the head office, and part of the annex were being renovated. As an interim measure, the personnel and general affairs sections were moved to those locations, with the intention of successively moving other sections later.
From materials held in the Corporate History Management Office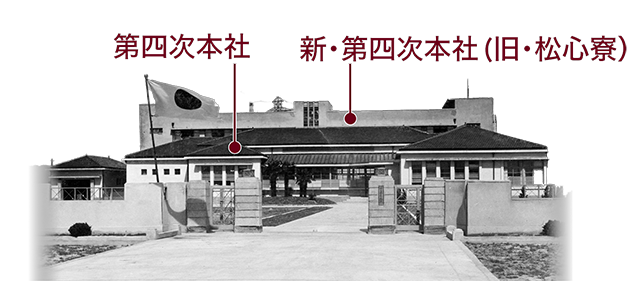 Kadoma City and Matsushita Electric
The economy and population of the Kadoma area grew apace during Japan's era of rapid economic growth, driven by Matsushita Electric's factory expansion and increase in employees, as well as the increase in the number of local small and medium enterprises that served as suppliers to Matsushita Electric. Kadoma was soon known throughout Japan as the "home appliance city."
From History of Kadoma City (Japanese only)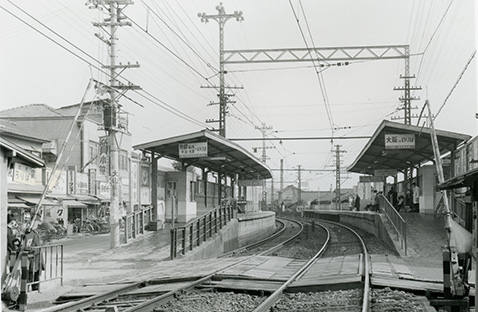 | | |
| --- | --- |
| | Matsushita Electric Works moves its head office to then-Kadoma Village |
| | |
| | Konosuke Matsushita becomes first honorary citizen of Kadoma |
| | Kadoma City's first Sister City tie-up, with Eindhoven, Netherlands |
| | Sister City tie-up with São José dos Campos, Brazil |
| | 50th anniversary of Kadoma's incorporation as a city |
Keihan Line's conversion to elevated quadruple-track lines
Construction to expand the Keihan Line from double to quadruple tracks between the Doi and Neyagawa signals began in November 1972. This was the biggest project of the 1970s for Keihan, and was the longest stretch of privately-operated quadruple track in Japan. This doubling in the number of tracks was aimed at alleviating the significant passenger transport bottleneck between Moriguchi and Kadoma, by increasing capacity, promoting operating safety, and enhancing railway crossing safety. Moreover, it was necessary to elevate the tracks in line with urban planning and from an urban transport perspective.
From 100 Years of Keihan (Japanese only)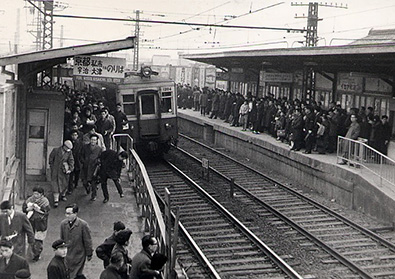 Construction: November 1972 to March 1982 (9 years 4 months)

Source: 100 Years of Keihan (Japanese only)
The Keihan Electric Railway was already operating express passenger trains with in-car televisions, but reception quality was not high. Since it was planning a major increase in the number and quality of its express trains, the company turned to Matsushita Electric to improve its in-car television service. The Television Business Division conducted extensive advanced testing to develop electronic circuits and antenna solutions most suited to electrified rail lines, and in March 1956, it succeeded in developing a completely new, 17-inch television for use on passenger trains, one that received praise from users.
From Television Business Division's 10-Year History (Japanese only)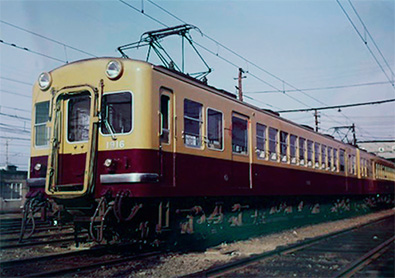 "TV Car" became a synonym for Keihan's express trains, and the company continued to enhance its in-car broadcast reception service. On July 1, 1971, Keihan introduced its 3000-series express passenger car, with Japan's first in-car color television service, and on August 1, 1992, Keihan was first to offer satellite broadcast reception in a railway passenger car.
From 100 Years of Keihan (Japanese only)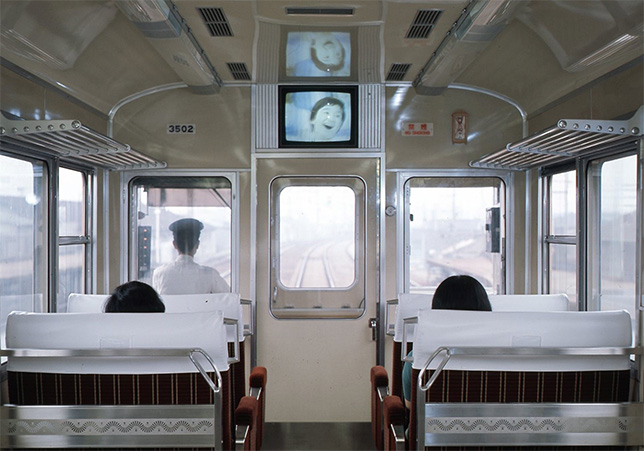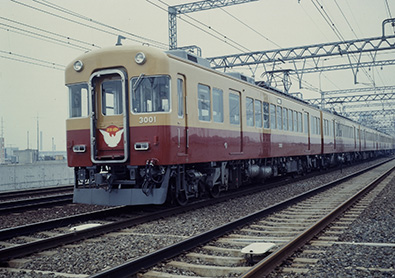 The Kadoma area around 1965-1975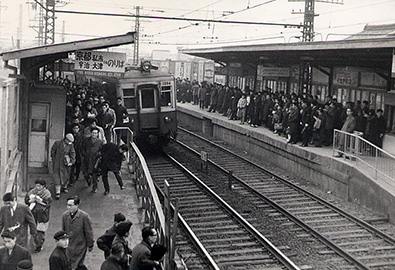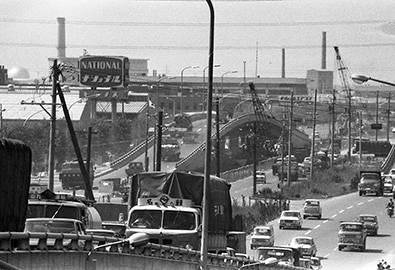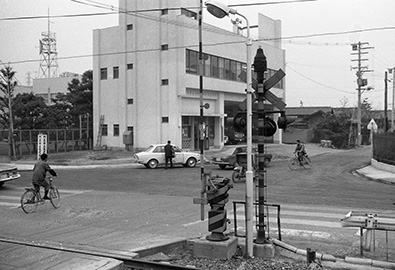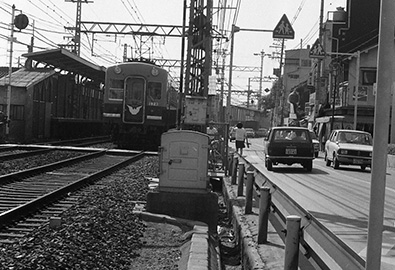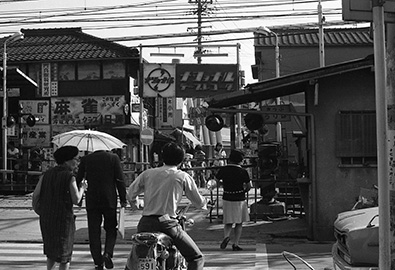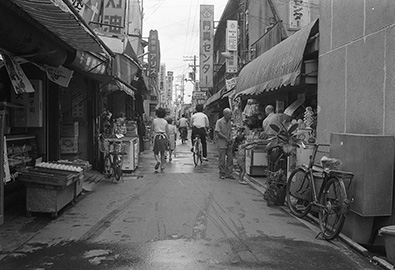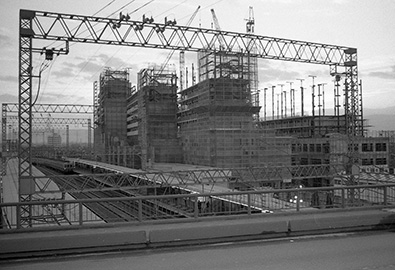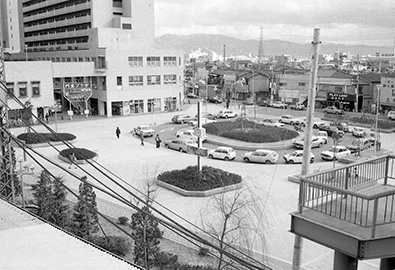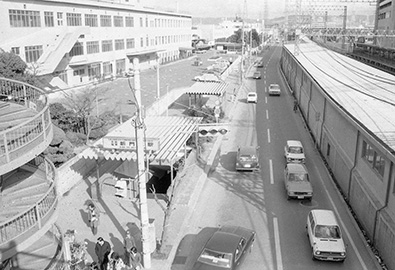 Elevated railway construction near the House of History (former Konosuke Matsushita Museum) (1972−1982)