Each action that Panasonic takes to fight global warming may be small. However, when all these actions are added together, the impact can be great.
Reducing CO2 emissions of our own value chain and society - we are calling such initiatives "Panasonic GREEN IMPACT" and we will work towards our own goal to realize a better life and a more sustainable global environment.
By 2050, Panasonic Group aims to create impact that reduces CO2 emissions by more than 300 million tons*1, or about 1% of the current total global emissions*2
*1 300 million tons calculated with 2020 emission factors
*2 33.6 billion tons of energy-related CO2 emissions in 2019 (Source: IEA),
The Panasonic Group will contribute to decarbonization of society by generating the following 4 impacts in its wide-ranging business fields. These impacts will help lower society's CO2 emission factor, which will also accelerate the reduction of emissions from our own value chain.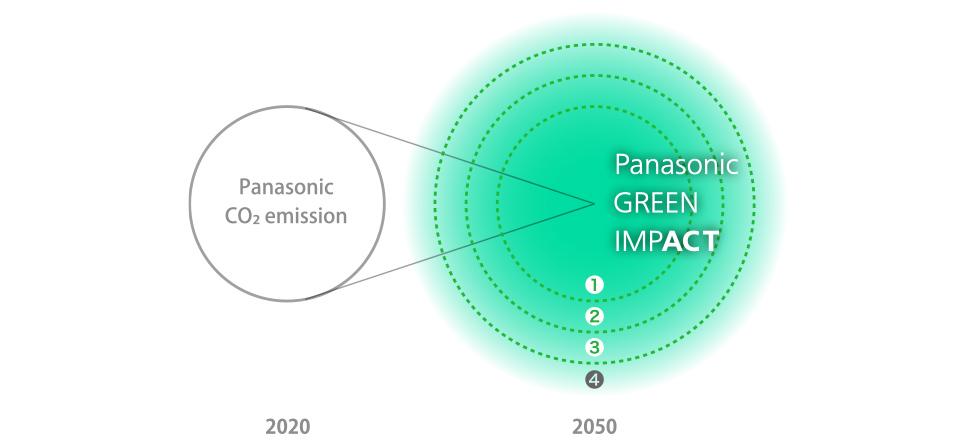 Types of IMPACT and Examples of Initiatives
Panasonic Group Initiative Examples

❶ Emission reduction in the Group's value chain
(OWN IMPACT)

Initiatives to create zero-CO2 emissions factories

Energy saving in Panasonic offices

Energy-saving Panasonic consumer electronics used by customers

❷Avoided emissions by existing businesses
(CONTRIBUTION IMPACT)

Pure hydrogen fuel cells

Air to water heat pumps (Aquarea)

Vacuum insulated glass (Glavenir)

Refrigerated showcases with automatic doors for convenience stores and supermarkets

Lithium-ion batteries for Evs

❸Avoided emissions through new technologies and businesses
(FUTURE IMPACT)

Environmental technology currently under development (perovskite solar cells, etc.)

❹Ripple effect on energy transformation of society
(INFLUENCE)

Promoting renewable energy use through business activities(➊~➌)and communication activities
The Panasonic Group strives to achieve carbon neutrality together with society, by creating impacts from actions that reduce CO2 emissions of our own and of various fields of society.