Each action that Panasonic takes to fight global warming may be small. However, when all these actions are added together, the impact can be great.
Reducing CO2 emissions of our own value chain and society - we are calling such initiatives "Panasonic GREEN IMPACT" and we will work towards our own goal to realize a better life and a more sustainable global environment.
By 2050, Panasonic Group aims to create impact that reduces CO2 emissions by more than 300 million tons*1, or about 1% of the current total global emissions*2
*1 300 million tons calculated with 2020 emission factors
*2 33.6 billion tons of energy-related CO2 emissions in 2019 (Source: IEA),
The Panasonic Group will contribute to decarbonization of society by generating the following 4 impacts in its wide-ranging business fields. These impacts will help lower society's CO2 emission factor, which will also accelerate the reduction of emissions from our own value chain.
Types of IMPACT and Examples of Initiatives
Panasonic Group Initiative Examples

Emission reduction in the Group's value chain

Initiatives to create zero-CO2 emissions factories

Energy saving in Panasonic offices

Energy-saving Panasonic consumer electronics used by customers

Avoided emissions by existing businesses

Pure hydrogen fuel cells

Air to water heat pumps (Aquarea)

Vacuum insulated glass (Glavenir)

Refrigerated showcases with automatic doors for convenience stores and supermarkets

Lithium-ion batteries for Evs

Avoided emissions through new technologies and businesses

Environmental technology currently under development (perovskite solar cells, etc.)
| | |
| --- | --- |
| Ripple effect on energy transformation of society | Promoting renewable energy use through business activities (❶~❸) and communication activities |

Environmental action plan "GIP 2024" formulatedFeasibility of Panasonic GREEN IMPACT 2050 enhanced.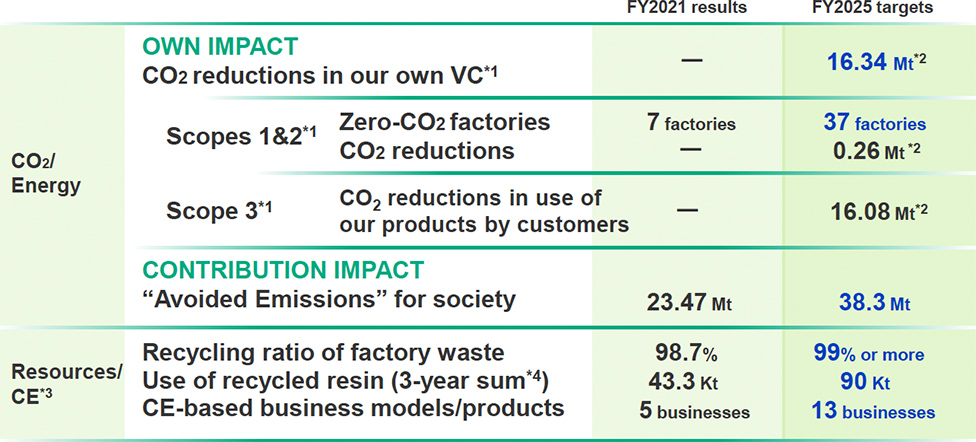 *1 Classification made based on GHG (Green House Gas) Protocol, the international calculation standard
*2 Size of CO2 reduction targets shown above is difference from that in FY2021.
*3 CE: Circular Economy
*4"3-year sum": FY2020-FY2022 cumulative results / FY2023-FY2025 cumulative targets
By presenting and achieving these concrete medium-term goals up to FY25, we aim to step-by-step get closer to the ideal state.
Toward 2030, create contributions that reduce emissionsby approx.100 Mt, in addition to net-zero in-house emissions.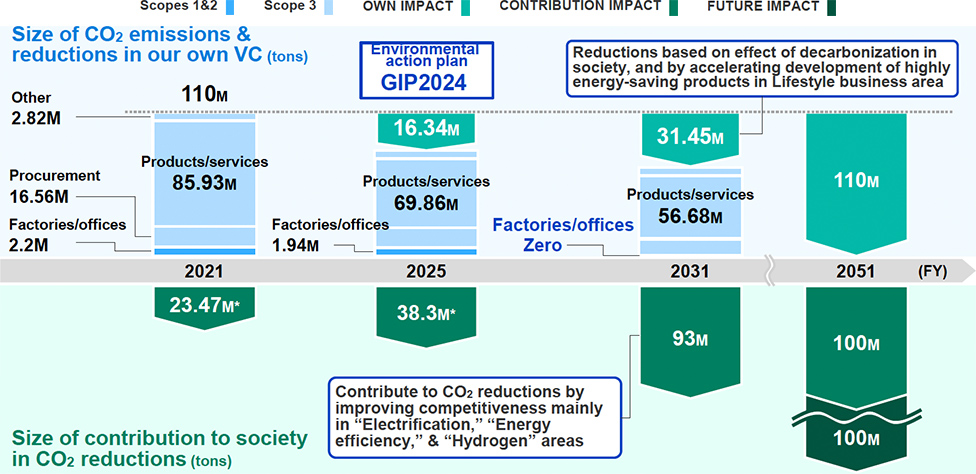 * Includes contributions to society in CO2 reductions through replacement purchase of products, etc.(10.99 Mt in FY2021 & 6.3 Mt in FY2025)
In FY31, as we have already committed, we aim to achieve net zero in-house emissions. In addition, in scope 3, through rigorous pursuit of energy-saving in the lifestyle business, we aim to expand own impact to 31.45 million tons. In the area of contribution impact shown at the bottom, by enhancing the competitiveness of existing businesses centered on the fields of electrification, energy efficiency, and hydrogen, we project the amount of contribution to reduction to be 93 million tons in FY31.
Increase number of zero-CO2factories Group-wide by promoting energy saving and by introducing & purchasing renewable energies to a degree that surpasses the amount of increased emissions from business growth.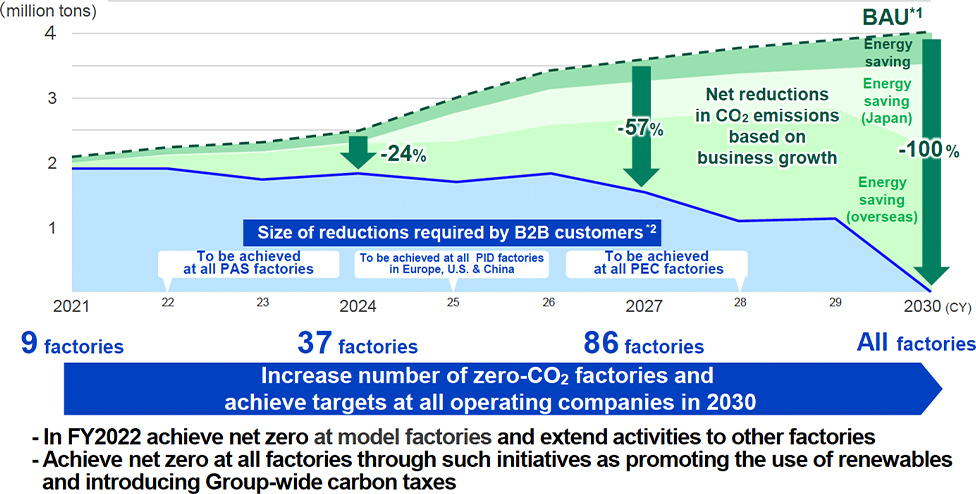 *1 BAU:Business As Usual
*2 PAS: Panasonic Automotive Systems Co., Ltd./PID: Panasonic Industry Co., Ltd./PEC: Panasonic Energy Co., Ltd.
I hereby reconfirm our commitment to achieving targets group-wide in FY31
by selecting the most efficient introduction and procurement of renewables.
The Panasonic Group strives to achieve carbon neutrality together with society, by creating impacts from actions that reduce CO2 emissions of our own and of various fields of society.