Pro Bono Team supports the "NPO HIGAN"
Design a workflow to develop an operational infrastructure for HIGAN
Non-Profit Organization: HIGAN
Panasonic is engaged in the "Panasonic NPO/NGO Support Pro Bono Program," which assists NPOs and NGOs in strengthening their business development capabilities to solve social issues by making extensive use of the skills and experience that employees have gained through their work.
This time, a team of seven Panasonic employees designed the workflow for the non-profit organization, HIGAN. Beginning on July 10, 2021, the Pro Bono team interviewed HIGAN stakeholders, examined each individual workflow, and incorporated the seven major tasks into a workflow design document. The Pro Bono team then presented its final proposal to HIGAN online on December 19, 2021. This article is an overview of the project.
Sharing With the World How to Detect Early-Stage Gastric Cancer
Pro Bono Team Is Asked to Rebuild HIGAN's Operational Infrastructure
Since its founding in 2016, HIGAN, led by physicians, researchers, and environmentalists, has educated health professionals and the general public in countries where H. pylori, the leading cause of stomach cancer is widespread, about the importance of stomach cancer prevention and environmental improvements.
In an effort to pass on advanced Japan's techniques for stomach cancer prevention, HIGAN has been distributing H. pylori eradication drugs and performing endoscopic stomach examinations in Bhutan, one of the world's leading countries with a high incidence of stomach cancer. In addition, the organization has shared its method of early endoscopic detection of gastric cancer with medical professionals all over the world through a method known as Train the Trainer (TTT), e-learning, educational videos, and seminars.
However, Ms. Yumiko Kamogawa, the organization's Chief Director, felt that there were issues with the organization's management.
"We are a small organization founded by a few people, and we began without confirming what was required to run the NPO, and as time passed, we became less organized about what we needed to do now and in the future."
Ms. Kiyomi Hori, Secretariat, was also concerned about the organization's operations.
"There were no short-term or long-term goals to serve as a foundation for the organization. Because only a few people were involved in the organization's management, it was as if the organization had reached a standstill, not knowing how it could continue to exist in the future."
As a result, HIGAN applied for the Panasonic NPO/NGO Support Pro Bono Program project to fundamentally rebuild the organization's operational foundation.
Leverage Strengths Derived From Interviews to Cover Weaknesses
Creation of Workflow Design Documents for Seven Major Tasks
The Pro Bono team decided to work on "workflow design" in order to develop the NPO's operational infrastructure. The Pro Bono team first interviewed 16 stakeholders individually, including HIGAN members, to determine each individual's expertise. As a result, the Pro Bono team identified HIGAN's strengths and weaknesses and devised a strategy to create a workflow that "leverages its strengths and covers its weaknesses."
In addition, the Pro Bono team reviewed each workflow and held eight online meetings with HIGAN to create workflow design documents for seven major tasks: various applications, conference-related, accounting, contract-related, public relations, educational video creation, and fundraising. HIGAN was fully briefed on four tasks.
・Various Application Workflow
The Pro Bono team has developed an annual schedule that specifies "when, where, what documents, and by whom" for various applications to be submitted to competent authorities and legal affairs bureaus. An Excel file was created with tasks to be undertaken three months prior to the end of the fiscal year.
・Accounting Workflow
HIGAN's deposits and withdrawals were spread across four bank accounts, and because no ledgers were maintained, it was difficult to keep track of deposits, withdrawals, and balances. As a result, the Pro Bono team requested that HIGAN consolidate deposits and withdrawals into one bank and use the other only for membership fees and donation deposits, and separate the staff in charge for accounting and donations, respectively. In addition, the Pro Bono team requested that the organization create an accounting ledger and a system in which the accountant reported monthly deposits, withdrawals, and month-end balances to the Chief Director.
・Public Relations Workflow
When HIGAN asked the Pro Bono team to improve its website, they analyzed the current website to identify problems. As a result, it became clear that the traffic line was cluttered, making it difficult for visitors to get the information they were looking for. The Pro Bono team then developed a proposal for a website with a clean traffic line in mind.
They proposed three specific points
Change the layout to be more attractive with better colors, text, and eye-catching images.
Introduce educational resources such as YouTube videos and e-learning to make them more accessible to a wider range of healthcare professionals, with the goal of increasing utilization.
Encourage more donations by adding a button on the top webpage that says, for example, "Donate from 30 yen a day."
・Fundraising Workflow
The Pro Bono team proposed solutions to two of HIGAN's challenges
Challenge (1): Low grant acceptance rate
In order to increase the grant acceptance rate, the Pro Bono team asked the grant program staff about key points of the grant application and submitted a summary of the Pro Bono team's findings on the grant application form in the form of minutes and recorded data.
Challenge (2): The funding of activities is overly reliant on grants
Because grants have the potential to alter the content of HIGAN's activities, the Pro Bono team developed a "collection of profitable business ideas." The self-support section proposed "lectures, collaboration with other NPOs, publishing activities, and sales of goods," while the support request section proposed "one-click fundraising after viewing e-learning, donation-type crowdfunding, linking with corporate welfare points, and requesting support from pharmaceutical companies."
Comments After Receiving the Final Proposal
Ms. Yumiko Kamogawa, Chief Director, HIGAN
Thanks to the workflows that the Pro Bono team has developed for us, we now have a clear picture of what we are doing, what we are missing, and what we need to do.
Mr. Kenshi Yao, Director, HIGAN, has been involved with the organization as a researcher and physician for many years.
The organization has come so far without me being able to do anything outside of my specialty. Thanks to the Pro Bono team members who helped us organize our operations from an outsider's perspective, develop strategies for our organization, and clarify our vision, we now have the first opportunity to coordinate our organization's individual activities.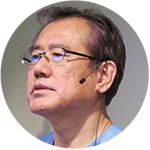 Ms. Yuko Takahashi, Public Relations
I realized once again that working with conviction gives us strength and unifies our organization. As a way to repay the Pro Bono team members, I promised myself that we would grow and reduce the number of stomach cancer patients.
Pro Bono Team Member's Comments
Ms. Saori Kitahara
I lost my own father to stomach cancer. I am not a medical professional, so I cannot save lives, but I joined HIGAN with the hope of contributing to the eradication of stomach cancer in developing countries, even if only indirectly. I look forward to HIGAN's future activities.
Ms. Kanako Goto
I received a lot of inspiration from the members I worked with and realized that there are people who are sweating to solve the world's problems and change the world for the better.
Mr. Tomoaki Tojo
I took part in this project in the hopes of making a similar social contribution in the future. I think it is wonderful that HIGAN is able to connect with the world and contribute in various ways through Train the Trainer and other programs, even in the midst of a coronavirus pandemic.
Mr. Soma Nishimura
I was in charge of improving HIGAN's website. As people in their 20s and 30s become the organization's core supporters and donors, we hope that the website's renewal will increase the number of young participants.
Ms. Asuka Mandokoro
I had no prior knowledge of gastric cancer, but learning about HIGAN's philosophy and activities broadened my understanding.
Mr. Hideki Mukai
This is the third time I have participated in the Pro Bono project, and each time it is different and interesting. It was a great experience to hear firsthand about Bhutan and other countries from wonderful people with a variety of different titles.
Mr. Takuya Miyoshi
I joined the Pro Bono project because I was working from home due to the coronavirus pandemic and had some free time and wanted to do something that would benefit society. I was able to converse across distances with people I would normally never have the chance to meet, which was fun and gave me a sense of accomplishment.
Non-Profit Organization: HIGAN
HIGAN was founded in 2016 by a group of physicians, researchers, and environmentalists dedicated to eliminating the H. pylori bacteria that is prevalent in developing countries, preventing peptic ulcers, stomach cancer, and lymphoma caused by H. pylori, as well as reducing stomach cancer deaths and establishing a foundation for people to live healthy lives through the sharing of techniques for detecting and treating early stage stomach cancer.