My study abroad in Japan, which looking back now, I understand was a great opportunity.
Working to create a bridge between Japan and my home country. And between my home country and the world.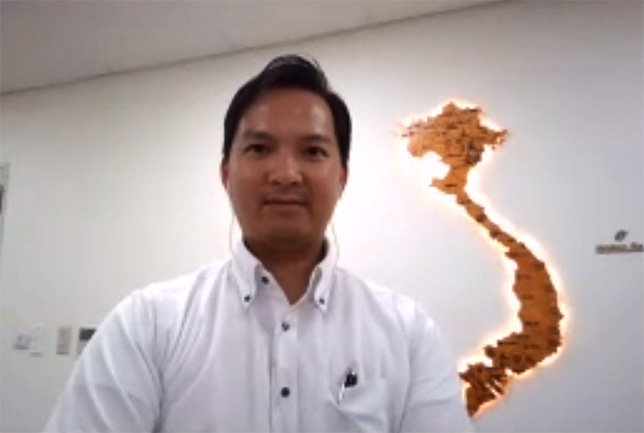 ○Mr. Nguyen Thanh Trung
Accredited in 2007 -> entered Osaka University (Division of Sustainable Energy and Environmental Engineering, Graduate School of Engineering) -> currently involved in the establishment and management of the local subsidiary in Vietnam for a Japanese company.
Mr. Nguyen Thanh Trung, who is featured in this article, was interviewed remotely from the outskirts of Hanoi, Vietnam. He studied at Osaka University as a Panasonic Scholarship scholar. He is in charge of the establishment of the local subsidiary in Vietnam for a Japanese company, where he was employed after completing his master's course, and has been taking charge of business in his home country since 2020. He works to expand the manufacture and sale of environmental equipment related to water quality improvement, such as water intake and purification, in Vietnam, Japan and around the world. The wish to deliver "water" that everyone needs with high quality under different environments and with different needs for cost performance. He says that the ability to act and adapt in order to make this desire come true came from the experience of taking the first step toward studying abroad.
Desire to learn the technologies for environmental measures that he had been interested in since he was a child
Mr. Nguyen, who studied chemistry at a university in Hanoi, had been interested in the environment since he was a child. It was because he was influenced by seeing the work of his father.
Mr. Nguyen: My father used to work on environmental pollution countermeasures. Seeing him as I grew up, I became interested in technology that improve the environment, and I began to want to be involved in these efforts. After graduating from university, I wanted to study abroad and learn new skills. My sister, who had studied in China, and my parents supported my wishes.
While actively preparing to study abroad and researching study abroad programs in countries such as the United States, Japan, South Korea, and Australia, a university instructor recommended the Panasonic Scholarship to him. The Vietnamese subsidiary of Panasonic served as the contact point and was giving invitations to various universities in Hanoi.
Mr. Nguyen: My instructor, who had studied in Japan, told me in detail about life in Japan and the research environment at universities, and recommended, "you should definitely go there." I myself learned that Japan had struggled with environmental problems such as pollution during rapid industrial development in the 1960s, and that Japan has since been working to improve the environment with its advanced technological capabilities. I applied for the Panasonic Scholarship because I wanted to see with my own eyes and learn how they made improvements and what kind of technology they used.
After the primary examination within the university and accreditation by the Panasonic Scholarship, he came to Japan in the spring of 2007. He tackled research on fuel cells that generate energy from wastewater in a laboratory at Osaka University. While the scholarship system allowed him to concentrate on his studies, living in Osaka also provided him with an opportunity to think about "convenience," "comfort," and "energy" in well-established railways, supermarkets and convenience stores in town, etc., and connect his studies to real life.
Mr. Nguyen: Besides that, studying abroad was exciting and I have many good memories. At a summer seminar hosted by the Panasonic Scholarship Secretariat, there were exchanges between international students beyond national borders, and Panasonic also invited us to attend the prestigious "Japan Prize" ceremony for science and technology. It gave me a chance to experience the leading edge of global research. The cherry blossom viewing I participated in every spring with other foreign students is also a wonderful memory. I enjoyed Minoh and Osaka Castle in Osaka and the beautiful spring in Kyoto.
*Japan Prize: Established based on the concept of the government to "set up an internationally prestigious award to contribute to the development of science and technology in the world" and donations from the private sector. The winners are selected from scientists and engineers from all over the world, and the award is given to those who are recognized as having made a significant contribution to the advancement of science and technology through unique and dramatic outcomes, thereby contributing significantly to the peace and prosperity of mankind.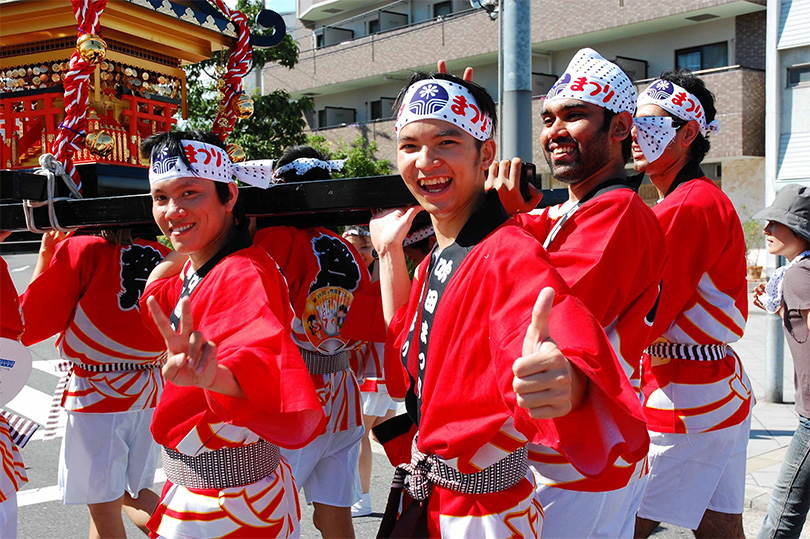 Photo: Participating in mikoshi (portable shrine) carrying with other foreign students at the Suita Festival in Suita City, Osaka Prefecture (2008)
Mr. Nguyen recalls that his most cherished memory during his study abroad is being able to interact with many foreign students beyond borders.
The importance of water which he came to recognize after the Great East Japan Earthquake
When he finally completed his master's course and was nearing the day of his return home, he learned that an environmental and energy equipment company was planning to establish a local subsidiary in Vietnam, and he decided to visit the company.
Mr. Nguyen: Even though I was going back to Vietnam, I still wanted to work for a company that was involved in environmental measures. When I told the company that I was an international student studying under Panasonic Scholarship during my job application, they evaluated very positively and treated me very favorably. Looking back on my work and life from then until now, I feel truly grateful for the great opportunity the "Panasonic Scholarship" gave me.
As he worked for an environmental equipment company, Mr. Nguyen rapidly gained confidence so that his studies up to that point became skills that connected to society and everyday life. He joined the company in 2010. For the first year, he was assigned to the engineering department, where he was in charge of everything from designing equipment to assembly on site.
Mr. Nguyen: The first thing I understood in the field was the importance of having a deep understanding of a piece of equipment's mechanism in order to get customers to use it. While both the heat in the summer and the below-zero cold in the winter in Japan were different from the environment in Vietnam, I learned what needs there were and how we should meet them as I worked there and kept talking with the customers.
While he spent his days learning in practice, the Great East Japan Earthquake occurred on March 11, 2011. After seeing the entire nation of Japan rethink its environmental, water and energy issues, he decided to use this experience to help solve the current problems in his home country of Vietnam, Mr. Nguyen says.
Delivering Japanese industrial quality to meet the needs of the world
After working in the engineering department, he also experienced working as a sales representative in charge of sales to the United States. Starting in 2014, he was put in charge of sales to his home country at the company, as he had wanted to for a long time. The company then decided to establish a local subsidiary in Vietnam with the goal of launching in 2020, and Mr. Nguyen was to play a central role and handle the location, legal and tax matters.
Mr. Nguyen: Whether it was in Japan, the United States, or Vietnam, it is always a challenge in a new environment when you start something. Although there were many things that I was not used to, each time I thought of the time when I started living in Japan. Even though I taught myself before coming to Japan, I could barely speak Japanese. However, I was able to move forward, saying, "it is going to work out." While it was because of the great support of the Panasonic Scholarship, I think it was also because I was able to gain experience and confidence through that sense of security.
Mr. Nguyen says that he wants to keep valuing the sense of "different but the same in nature," which he felt through his experience studying abroad, in using his experience to expand his work and business in the future.
Mr. Nguyen: The environment varies from country to country and from land to land. But the wish of the people who live there "to want water with good quality" remains the same. And Japanese technology possesses the high quality to provide it. However, the cost performance demanded varies, and that is part of the needs. I would like to play a role as a bridge to understand, coordinate and deliver the necessary equipment.
At present, even though he lives in Vietnam, he maintains relations with Japan while holding exchange meetings with the employees of Japanese companies in the industrial park. This is because he still has the desire to learn from Japan and use it for the development of Vietnam.
Mr. Nguyen: Japanese industries' commitment to quality, organization, etc. are things that the Vietnamese companies and factories should incorporate. In particular, the PDCA cycle (Plan, Do, Check, and Act), which is used to improve the quality control and business management at Japanese factories, is very important. I would also like to deepen my own understanding of IT and AI so that new technology such as equipment operation and automatic operation can be introduced to the world from Vietnam.
Looking back on the Panasonic Scholarship as a major step forward in his life and then another, Mr. Nguyen also shared his opinions with young people.
Mr. Nguyen: You may think that unknown fields have nothing to do with who you are now. However, there will always come a day when the environment, experiences, hardships, and all the unexperienced things will be useful to you in the future. If you have the chance, take a step forward, participate, and experience. Years from now, you will feel that you needed it.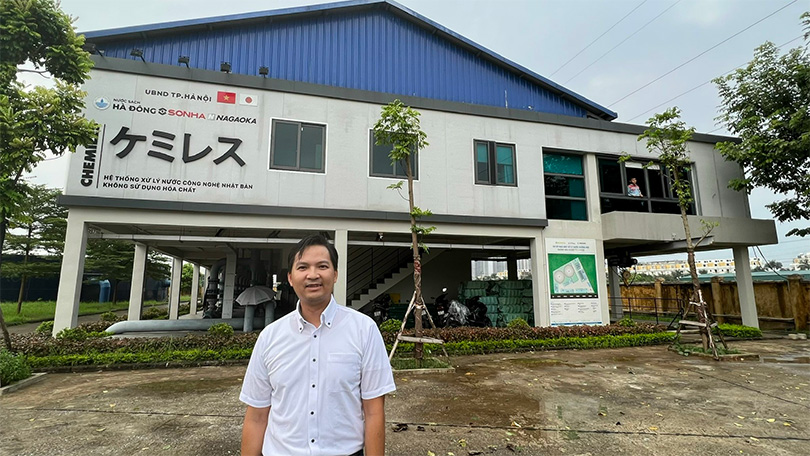 Today, Mr. Nguyen continues to deepen his relationship with Japan.