Nurturing people - a future that came into view as I learned from corporate philosophy.
Wishing to play a role in improving the lives of people.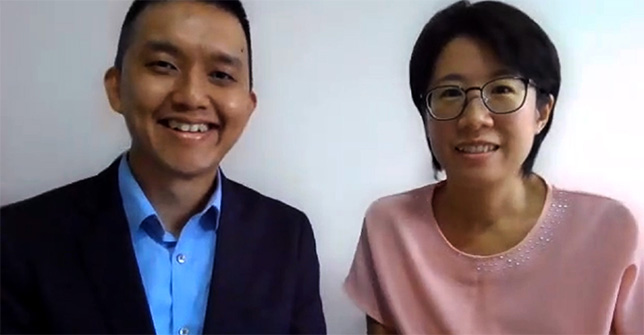 Mr. Kek (left in the photo) and Ms. Gan were always smiling.
○Mr. Kek Khai Jun
Accredited in 2003 -> entered Hokkaido University (Laboratory of Biomedical Instrumentation and Measurements, Division of Bioinformatics and Bioengineering, Graduate School of Information Science and Technology) -> after completion, joined Matsushita Electric Industrial Co., Ltd. (then) -> currently works for Panasonic Industrial Devices Singapore Pte. Ltd.
○Ms. Gan Li Hui
Accredited in 2005 - > entered the Graduate School, University of Tokushima (Systems Innovation Engineering, Graduate School of Advanced Technology and Science) -> after completion, became employed in Japan -> currently engaged in the establishment and operation of the local subsidiary of a Japanese company in Singapore
This article features Mr. Kek Khai Jun and Ms. Gan Li Hui, who are married to each other, and we interviewed them remotely in Singapore. Both are from Malaysia and were students at the University of Technology Malaysia. However, they met in Japan. It was when they both came to Japan as Panasonic Scholarship Scholars and were learning in two different prefectures, Hokkaido and Tokushima. Their separate dreams intersected as they pursued their desire to study abroad and study in Japan, and now each of them has a role to play in bringing various parts of Asia together through their work in Singapore. While skills and knowledge are necessary, they agree that the most important thing is the view of life that values growth as a person and communication with people. We asked them to look back on their journey, where the "outcome" of studying in Japan was the opinion expressed above.
Their own future that came into view after studying in Japan
Mr. Kek studied medical electronics at the University of Technology Malaysia and hoped to study in Japan in the future. At that time, English speaking countries such as U.K., Singapore and Australia were more popular in his circle. There was a general impression that the language barrier was too high in Japan, he says. However, Mr. Kek had always had an interest in Japan.
Mr. Kek: Our generation was exposed to Japanese culture through anime in the 80s and TV dramas in the 90s. Especially when I was in junior high school, Japanese dramas were very popular, and I always thought "I want to go there someday." At the university, I also took a course in Japanese language study, listened to the instructor talk about his experiences in Japan, and began to think about Japan as a place to "study abroad."
Despite this vague thinking, the reality of graduating from the university loomed, and Mr. Kek started preparing for study abroad with U.K. and the U.S. as candidates. One day, Mr. Kek's father found an advertisement in the newspaper for the Panasonic Scholarship and told him about it. Mr. Kek made an application, and was awarded the Panasonic Scholarship after passing examination, interview, and etc. Over the next six months, as he looked for a university to accept him, Japan changed from a "country he wanted to visit someday" to a "place where he wanted to learn."
Mr. Kek: I contacted several laboratories in Japanese universities by email and ended up with the laboratory of a professor at Hokkaido University, who later became my teacher. I learned that the professor's research was at the forefront of biomedical engineering (BME) and asked to study there. With the condition of "pass the first grade of the Japanese Language Proficiency Test" when I came to Japan, he accepted me. Since I would be the only foreign student in the laboratory at that time, my teacher advised me, "do your best" in communicating with people around me so that I would be able to study and have a life.
In April 2003, Mr. Kek went to Hokkaido for study abroad. Later, he even had the experience of being late for the awarding ceremony, which was held in Osaka, due to the delayed departure of the plane due to snow. But what surprised Mr. Kek most was the kindness of the people around him, rather than the differences in climate and environment.
Mr. Kek: After the award ceremony, the then president of Panasonic Scholarship gave me winter clothes such as sweaters and jackets. I learned that they cared about the actual circumstances of each student and realized that this was a scholarship that would let me feel at ease even in terms of living. I was rather concerned that the academic level of the university was higher than I had expected. However, with the kind guidance of my teachers and senior students in the laboratory, I was able to have a sense of accomplishment from learning, acquire deeper learning and broaden my horizons for considering what I should do in the future.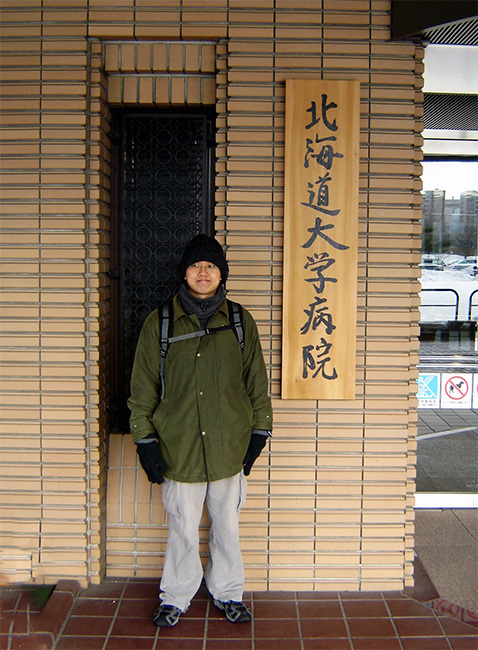 Mr. Kek in 2006. The jacket he is wearing is the one that was given to Mr. Kek, who was going to study at Hokkaido University, in 2003 by a Panasonic Scholarship -officer.
After consulting his teacher, Mr. Kek decided to enter a doctoral course following completion of his master's course. It was only natural that he chose Panasonic (then Matsushita Electric Industrial Co., Ltd.) to work for when he finished his studies, he says.
Ms. Kek: I was able to stand where I could see the path of my life thanks to the scholarship the company offered as a social contribution. This time, it was my turn to engage in social contribution and give back while accumulating knowledge and experience. With that in mind, I wanted to work at Panasonic.
After study abroad and learning in Japan, I became the person I wanted to be
Ms. Gan became a student at the University of Technology Malaysia one year later than Mr. Kek. She studied computer engineering and worked for a foreign-affiliated company after graduation. It was again from an advertisement in a newspaper that she learned about the Panasonic Scholarship.
Ms. Gan: Although I worked for a foreign-affiliated company, I worked in Malaysia. From an early age, I dreamed of going overseas and living with people from various cultures. A friend who knew that found the information on invitation and told me about it. In Malaysia, Japan's innovativeness was widely known as an example of nation-building through "Look East," advocated by Prime Minister Mahathir, and I had been interested in Japan since I was a small child. Although it took courage to change my life, I challenged myself to do it "because it was Japan," and I was awarded Panasonic Scholarship in 2005.
Ms. Gan studied engineering at university and initially worked as an engineer in Malaysia, but she volunteered to move to the marketing department and worked as a sales representative for clients in Southeast Asia and Europe. When she looked for a university and a laboratory to study in Japan, she stuck to the fields related to "communication."
Ms. Gan: Since I considered "communication" itself as my area of interest, I read with great interest a paper by a professor at University of Tokushima who was studying knowledge management. It was exactly about "how can we improve communications among people?" and I contacted the professor, wishing to learn in his laboratory, right after finding out that they were working on the development of "software for learning Japanese intended for international students."
The laboratory had already accepted foreign students, and Ms. Gan prepared to study in Japan while keeping in touch with the professor and foreign researchers. The staff from the Panasonic Scholarship also provided support with information about Japan, and she was able to arrive in Tokushima without any anxiety when she came to Japan, she reflects.
Ms. Gan: I had never experienced either Tokyo or Osaka before but studying abroad in Tokushima gave me an exciting and fulfilling experience of "learning in Japan." I was able to communicate with students from all over the world in the local government's international student center, and I was able to use the latest facilities and equipment in the laboratory. Furthermore, when I went out into the city, the people in the area were very friendly. I joined a local club for climbing as I liked mountain climbing and climbed a low mountain in Tokushima every month to enjoy the rich nature. It was my first time living abroad, but it felt as if I had many family members, and it was very reassuring. Tokushima is still my second hometown.
Those days, when she was able to work in the laboratory on knowledge management research and become exposed to cutting-edge research during the opportunities to actively participate in international conferences, gave Ms. Gan the time to imagine her future specifically.
Ms. Gan: After I completed the course, I found a job at a Japanese company, but I was assigned to a sales position. It was a job to work in Tokyo and which includes promotingproducts to foreign embassies and international students at universities. It may seem a little removed from what I learned, but for me, it was a job which involved my childhood dream of "living overseas" and "communicating with various different people," and in which I could utilize all the paths I had taken in my life until then, including "making proposals based on technical knowledge" which I needed to achieve that dream. I became who I wanted to be. Studying in Japan had made a considerable impact on me.
Strong sense that her perspective which widened in Japan is being used inher international work
Every summer, the Panasonic Scholarship hosts a summer seminar for scholars studying in various parts of the country. The two of them met during what would be the last summer for Mr. Kek as a foreign student and the first summer for Ms. Gan. After that, the couple married in Japan and decided to leave Japan after thinking about their future life.
Mr. Kek: Our main reasons were the education of the children we were planning to have in the future and our parents who lived in Malaysia. We wanted to stay as close to our home as possible. We wanted a place to spread the experience and knowledge gained through the Panasonic Scholarship not only to our home country but also to Southeast Asia and the world. It was because of several people that we wanted to do so. We wanted to use the knowledge and skills we learned from our teachers for the benefit of people. The founder of Panasonic, Konosuke Matsushita, was well known in Malaysia as a man who overcame many hardships and established a global company in his lifetime, and I learned a lot from his philosophy while working at Panasonic. For example, the founder's philosophy on "the importance of nurturing people over technology" is a constant value even as times change. It has become the goal in the way of life that I want to live in the future, and it is a very important guideline for me in working in an international environment.
Ms. Gan: When we left Japan, we each left the companies we had worked for. Fortunately, however, both companies were planning to expand their businesses in Southeast Asia, and each of us got a new job to be engaged in a new business from the former company. The two of us moved to Singapore in 2013, and we are still here today. I have established the local subsidiary of a Japanese company here and am working to develop markets in Southeast Asia, South Asia and Oceania. While I go on business trips to various countries, I have friends whom I met through the Panasonic Scholarship at many of my destinations. In addition to handling highly trusted and valued Japanese products, having the foundation of such international communication enables me to work with confidence and security.
The step called study abroad in Japan, which each of them took separately, has now allowed them to head toward the same future with matching strides. Looking back on their journey, they say they would like to encourage young people in Asia to experience studying abroad.
Ms. Gan: When I was studying in Tokushima, I had many opportunities to give lectures to local junior high and high school students through volunteer activities. What I felt then was that many young people in Japan are worried about the language barrier with foreigners. My Japanese is by no means perfect, but it is not a wall. The most important thing is to take the time to communicate. What you need at the time is to understand the good things about your hometown and Japan and take pride in them. And the wish to convey them to other people. Anyone can do that. Having your own world allows you to communicate with people around the world. I realized that when I studied in Japan.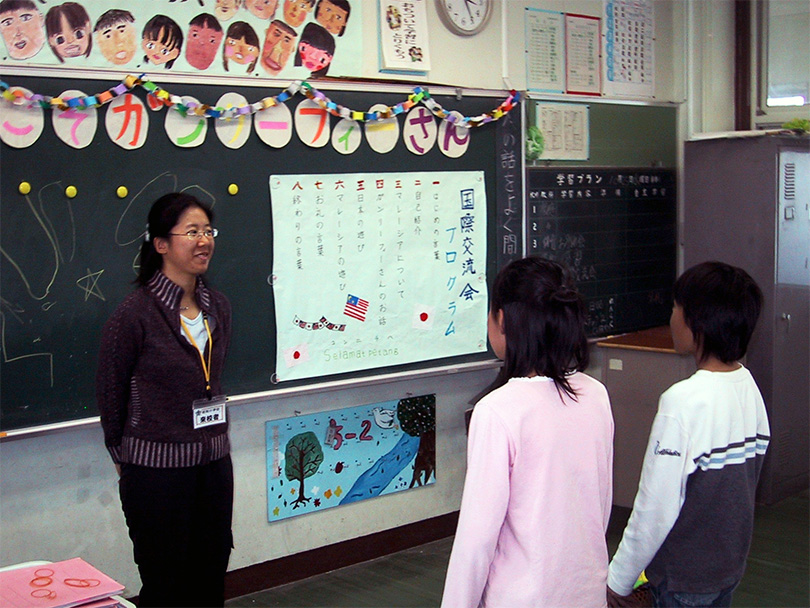 2006 She participated in volunteer activities at Japanese elementary schools. She was able to convey the importance of communication.
Mr. Kek: - Dr. William S. Clark the founder of Sapporo Agricultural School, which was the predecessor of Hokkaido University where I studied, left behind the famous phrase, "Boys, be ambitious!" After learning in Japan with the help of many people and working at Panasonic, I was able to grow as a person under their corporate philosophy. I strongly hope to contribute to improving people's lives through my current job. That is the view of life I acquired from studying abroad. We have three children, and we want to share our experiences, thoughts, and this view of life with them. I want to support my children and give them a push forward if they want to study in Japan in the future.