The significance of social contribution realized through the Panasonic Scholarship:
How being a bridge between Japan and Vietnam came to be "my way."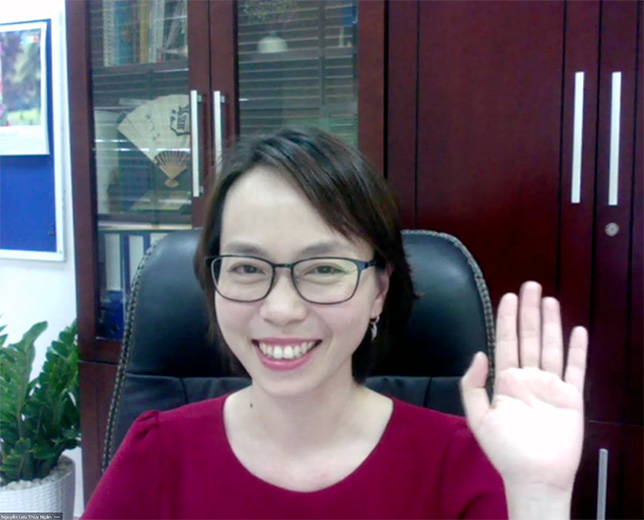 ○Ms. Nguyen Luu Thuy Ngan
Nationality: Vietnamese
Current country of residence and occupation: Vietnam, higher education
Awarded in 2005 -> entered the University of Tokyo (Computer Science, Graduate School of Information Science and Technology) -> after completion, engaged in research activities as a postdoctoral fellow at the National Institute of Informatics (Graduate School) in Japan -> in 2013, after returning to Vietnam, worked at Viet Nam National University Ho Chi Minh City, University of Information Technology -> has continued in this occupation to the present day
Public universities in Vietnam include national universities under the jurisdiction of the Ministry of Education and Training, which is equivalent to the Ministry of Education, Culture, Sports, Science and Technology of Japan, as well as national universities under the direct control of the government. There are national universities located in Hanoi as well as Ho Chi Minh City, and Nguyen Luu Thuy Ngan works at the University of Information Technology, one of the seven universities that make up Viet Nam National University Ho Chi Minh City. Ms. Nguyen is responsible for the operation of the university and is engaged in human resource development as well as research support while working closely with students. She says that she uses her experience in Japan as a point of reference for this work. And so, we asked Ms. Nguyen about what she has brought back to her home country to convey to students who will lead the future of Vietnam.
A message for students who will lead the future of their homelands: The need to study abroad
Viet Nam National University Ho Chi Minh City, University of Information Technology conducts research on human resource training in relation to the development of information technology in Vietnam. The university has about 9,100 undergraduates, 400 graduate students, and 360 staff and instructors. Ms. Nguyen served as head of the Academic Affairs Office and was appointed vice rector of the university in 2020.
"I'm in charge of university entrance examinations as well as academic affairs after enrollment. It's my job to work closely with students as I create an environment that allows them to have fulfilling lives at university and send them out into the world as talented professionals. This involves building curriculums, planning semesters, managing exams, considering graduation, and awarding university degrees."
Ms. Nguyen is also engaged in education and research for one class every semester. She even supervises graduation theses for students. She says her research experience at Japanese universities and institutions has helped her with this.
"The respect for teamwork among Japanese researchers and the people I saw on corporate visits organized by the Panasonic Scholarship, along with the high level of individual awareness with regard to study and research— those items have taken root in me, and they're what I'm handing to students in Vietnam. I also recommend studying abroad. This is not only to get access to a better learning environment and research facilities but also because I want each student to have what Steve Jobs described as a 'Stay Hungry, Stay Foolish' attitude towards learning.
The students are very talented. Because of that, they see gaining more knowledge as maturity and often become complacent. However, the world is a big place, and there's a lot to discover. In addition, there are differences from person to person and between different cultures that Vietnamese people can't see with other Vietnamese people. The insights and tolerance for others you gain from studying abroad should be a source of growth that's just as important as gaining knowledge."
Studying abroad: A career choice she made to learn the "secrets" behind Japan's development
The Vietnamese education system is comprised of five years of primary education (elementary school) starting at the age of six, four years of secondary education (junior high school), and three years of senior high school for a total of twelve school years or grades. When Ms. Nguyen was in eleventh grade, she learned about Japan in her geography class and has been keenly interested in the country ever since.
"I learned about the miraculous development of Japan's society and economy. I had a very strong interest in why that was possible, and I wanted to go to Japan one day to uncover the 'secret' behind all of that. I think that dream also motivated me to study later on. I entered the Viet Nam National University Ho Chi Minh City, University of Science, and after graduating, I led a fulfilling life working on scientific research as a research assistant and having research papers published in the proceedings of international conferences."
Ms. Nguyen recalled that she has been naturally curious ever since she was a child. Her innate curiosity made her want to study abroad to improve her professional research skills and satisfy her curious desire to learn about foreign countries and people. As Ms. Nguyen's interest in Japan continued, she decided to study in Japan and applied for the Panasonic Scholarship. After receiving the scholarship, at the end of March 2005, she finally achieved her long-held dream of coming to Japan.
The language barrier was so large that she couldn't converse with anyone in the laboratory for the first six months she was there, and it took her a year before she could communicate in Japanese. However, Ms. Nguyen recalls that the "hardships" she had during that time were also "enjoyable experiences."
"In addition to the Japanese language classes for international students at my university, I also attended Japanese language classes for foreigners twice a week in Suginami Ward, Tokyo, where I lived. I went out for lunch and dinner with people from the laboratory and participated in volunteer activities on weekends. By diving in and mingling with Japanese people, I not only learned the language but also came to understand the subtleties of Japanese society, culture, and communication through first-hand experience. Then, I finally figured out the Japanese "secret" that had long been a mystery to me. The people always persevere and give their best effort. They respect manners, care about the people around them, cooperate to create harmony, and solve problems peacefully. Behind Japan's advanced technology and economic development are the efforts of the people. I thought this was something that I should learn from Japan and bring back to Vietnam."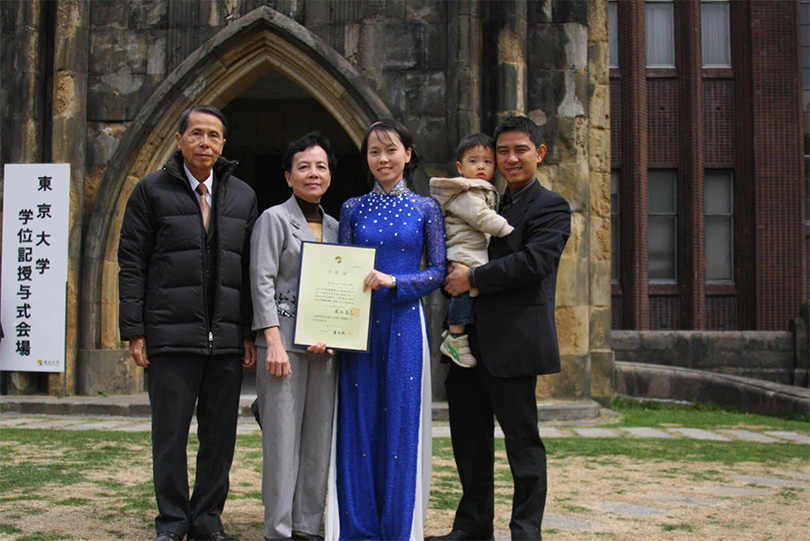 In March 2012, Ms. Nguyen's parents came to Japan for her graduation ceremony, where she received her doctorate from the University of Tokyo's Graduate School.
In 2018, Nguyen contributed to the establishment a new undergraduate program at the university where she worked. In addition to providing specialized knowledge, the curriculum of this program is also designed to teach Japanese language and culture with the assumption of developing talent who will work in Japan in the future.
"I think it's important not only to work in Japan but also to learn how to work in Japan. The program is supported by teachers and research institutes who helped me in Japan, and it promotes collaboration in classes and research. The Japanese government also gave our university a computer lab for students to learn Japanese. I tell my students that this is a gift from Japan to Vietnam and that it symbolizes friendship, trust, as well as cooperation with a view towards the future."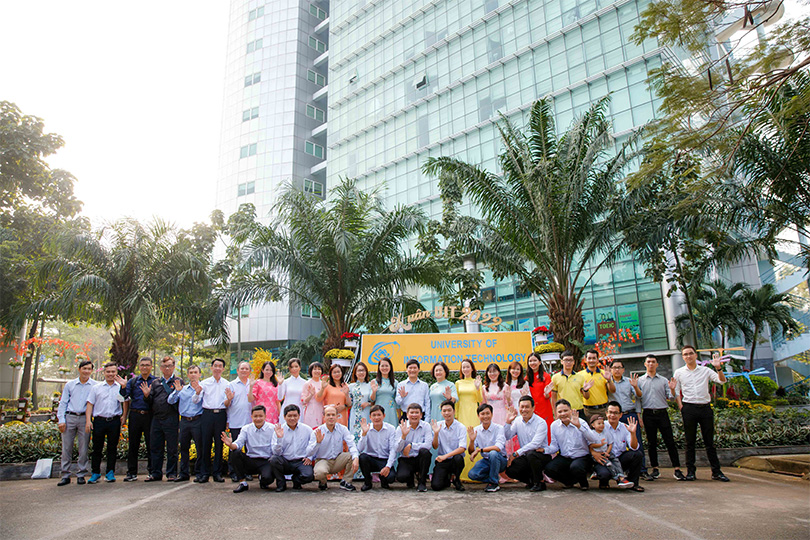 A group photo of Ms. Nguyen with her colleagues at Viet Nam National University Ho Chi Minh City, University of Information Technology.
After studying abroad in Japan under the Panasonic Scholarship, the interest in Japan that Ms. Nguyen developed in the past has borne fruit as a bridge of friendship between Japan and Vietnam. The University of Information Technology conducts a student exchange program with Japanese universities and companies. When it comes to research, they are also seeing cooperation with a growing number of universities.
"Studying abroad in Japan was a major event in my life. I've had many unforgettable experiences, and Japan has become a part of my life. Every time I visit Japan, I strangely feel like I'm back home. This is because the Panasonic Scholarship supported an environment where I was able to concentrate on my studies, I encountered staff that kindly looked after me, and due to the many opportunities for exchange I had with other international students. I once asked an official for the program why they don't make it a condition to work for Panasonic while providing so much support for young people from foreign countries. They then told me, 'This is our contribution to society. It's meaningful to expand everyone's potential.' And I was very impressed by this response."
Ms. Nguyen says that she was able to find her "way" in life—one that she has come to establish and lead specifically through her studies in Japan via the Panasonic Scholarship.
Ms. Nguyen holds a fan commemorating the tenth anniversary of the founding of the Panasonic Scholarship. "The Way" ("Michi" in Japanese) is one of Konosuke Matsushita's words of wisdom, and these words are lovingly displayed in Ms. Nguyen's study.
"Vietnam has a motto of 'being a friend to all nations.' To realize this goal, I want to continue communicating with students to convey the significance of social contribution that I learned through the Panasonic Scholarship."