"Seeking a cure for dementia". My experience in Japan was the biggest turning point in my life and laid the foundation for my research.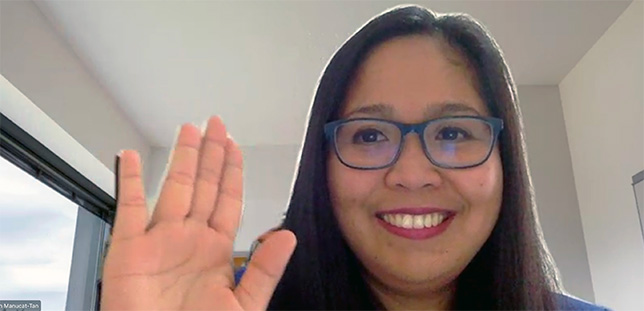 ○Noralyn Basco Manucat
Nationality: Philippines
Accredited in 2010 - > Admitted to the Graduate School of Kyoto University (Division of Applied Life Sciences, Graduate School of Agriculture) - > After completing a Master's degree, she obtained a Doctor of Philosophy degree in Medical Sciences from the University of South Australia - > Currently working as a postdoctoral scientist at the College of Medicine and Public Health at Flinders University, Australia since 2018
Noralyn Basco Manucat, a native of the Philippines, is a talented woman who continues to conduct research related to dementia and Alzheimer's disease. Although she conducts research in a highly specialized field, her bachelor's degree in her native Philippines was a far cry from her current research interests. We asked her to tell us more about her master's degree at Kyoto University, which taught her the skills to pursue the research she has devoted her life to, and about her unexpected encounter with the Panasonic Scholarship that made it all possible.
A fateful encounter with a scholarship that changed her life
After graduating from the University of the Philippines Diliman, Noralyn worked as an instructor at a Japanese company that provided online language learning services. However, after seriously considering her future, she decided to pursue a career in scientific research. She is currently working at a university in Australia to understand the mechanisms of proteins that play a role in the cause of Alzheimer's disease.
"My main research now is on the mechanisms of hypochlorite, and a protein called amyloid beta which are produced in the human body. Understanding these mechanisms is said to be very important for creating new treatments for Alzheimer's disease, and this is something I am working on every day. My bachelor's degree was in Food Technology; however, my master's degree from Japan worked with a group of proteins called ATP-Binding Casette (ABC) transporters, which play an important role in translocating various types of substrates across membranes and have specialized function in maintaining human health. Then, with my PhD, I began research on the role of proteins, amyloid beta and tau, which are involved in Alzheimer's Disease. In my current research project, I am still investigating the mechanisms on how amyloid beta aggregation becomes neurotoxic, with which the background knowledge and skills I gained from my PhD and masteral studies were valuable. I would like to highlight that I learned the foundation of most of the skills required for my current research, such as how to detect relevant proteins, how to predict responses to certain drugs and how to perform specialized tests at Kyoto University in Japan."
At first, Noralyn considered pursuing her master's degree in the Philippines, but ultimately chose Japan. The catalyst behind this decision was truly coincidental and fateful.
"The reason I decided to study in Japan seems like a bit of a joke.... It was totally coincidental. I was looking for a research position related to food science. One day, I was scheduled for an interview at an agency under the Philippine's Department of Science and Technology. I became lost and couldn't find the office…That's when it happened. I happened to pass by a bulletin board with a poster advertising the Panasonic Scholarship. It said that Panasonic would sponsor my masteral study for two years with stipend and an additional year for learning Japanese with financial support to study in Japan. I was so surprised that such a scholarship existed, and immediately made a note of the deadlines for submitting the necessary materials and what I needed to prepare. I finally managed to find the building I was looking for and sit my interview, but my mind was already set on studying in Japan."
Noralyn grew up watching Japanese anime and hero movies that were broadcasted in her hometown, and through her interactions with Japanese people while she worked at a Japanese company, Noralyn says she was fascinated by how beautiful Japan was and very interested to learning more about Japanese culture. But when it came to applying for the scholarship, she kept it as a secret from her friends and family at first.
"I didn't tell anyone that I was applying for the Panasonic Scholarship. I had never applied for a scholarship that would allow me to travel overseas, so I figured I would try my luck and wanted to keep it a secret as long as I could. I didn't want to be distracted by people asking me "How did it turn out?" and I'm not sure if I will get it or not. I don't really want to be embarrassed in the end. Then I was lucky enough to receive the scholarship and was finally accepted to study in Japan. That's the time I finally shared it to everybody".
Life as a student in Japan, exposed me to the beautiful culture of Japan and warmth of the people
The scholarship provides support to students for three years, including the preparation period. As there was no specific university at which she had to study, Noralyn chose Kyoto University based on her own desired field of study and the city in which to live. However, the application process was all up to her. As a condition of her study in Japan, she was also required to pass the level 3 Japanese Language Proficiency test and devoted herself to her language studies.
"When I passed the Japanese Language Proficiency Test and was assured of studying in Japan, it was the greatest moment of my life. Everything progressed smoothly from that point on. In my case, in addition to the staff at Panasonic in Japan, the staff at Panasonic in the Philippines maintained frequent contact with me and even paid for my airfare to Japan. I found my studies at Kyoto University to be very rewarding and enjoyable, and I could not have asked for a more fulfilling experience. The support I received from the Faculty of Agriculture was amazing and the Japanese staff made a real effort to communicate with me in English. In return, they sometimes helped me with my Japanese. There was a seminar camp every summer where we all played tennis and had fun together. The student cafeteria at the university also left a deep impression on me. Apart from the fact that I couldn't use chopsticks very well, I felt like I was a normal Japanese student. During the summer I went to see the Gion Festival, and in the fall, I visited Arashiyama. Dining by the Kamo River during the cherry blossom season was perhaps one of my most enjoyable moments. The time I spent in Kyoto was very enjoyable."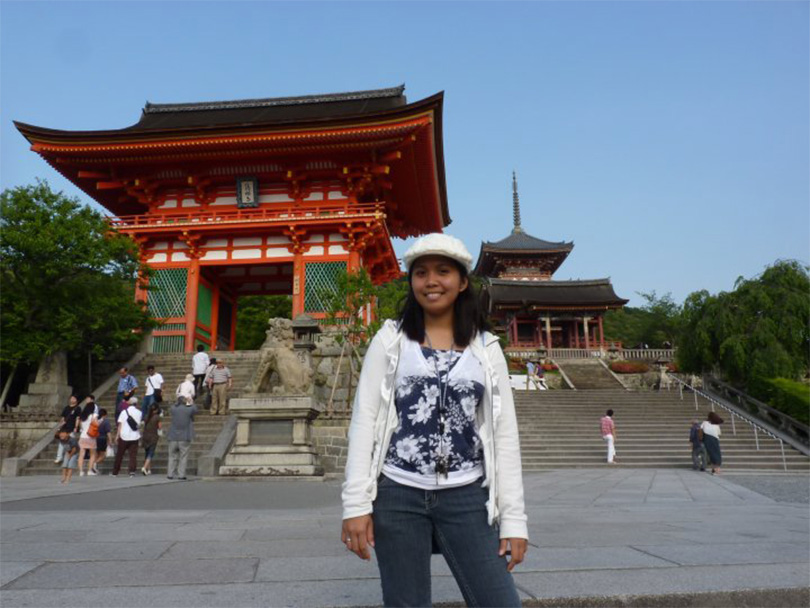 Noralyn really enjoyed the Japanese culture during her studies in Japan. Picture: Kiyomizu-dera Temple.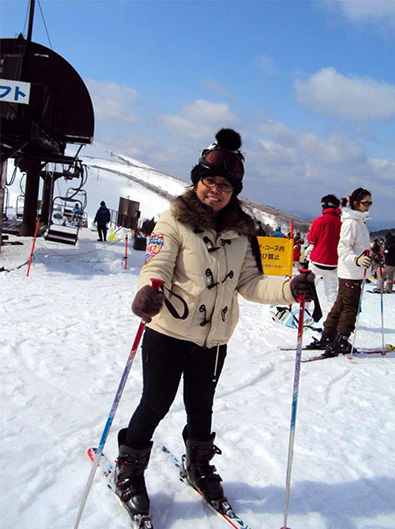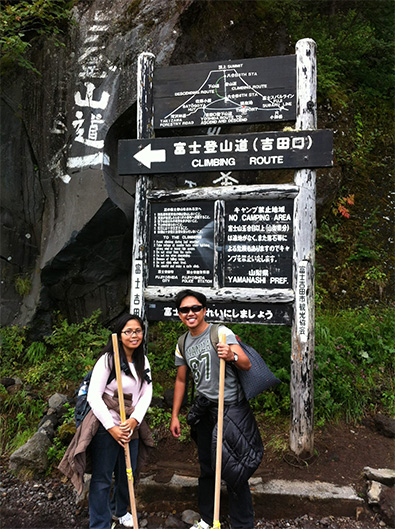 On the ski fields (left). I had so many amazing experiences in Japan, including climbing Mt. Fuji.
During her studies, Noralyn visited various cities in Japan, including Tokyo, for a variety of annual events and academic conferences held by Panasonic for international students. She said, "I felt that Panasonic was very generous in supporting me so that I would not feel lonely even in a foreign country."
Valuable advice from friends during her time abroad helped her decide on her future career path
Noralyn loved her life in Japan, but after completing her master's degree at Kyoto University, she went straight to Australia to pursue her doctorate degree. She still currently resides in Australia.
"In fact, I wanted to earn my PhD in Japan. I applied for several scholarships and unfortunately were unsuccessful. So, I looked for other opportunities overseas and I applied for a scholarship at the University of South Australia. I am convinced that being a graduate of Kyoto University was one of the strongest contributing factors for my success in getting this PhD scholarship. I was really grateful for the opportunity Panasonic has given me. It was then that I decided it was time to leave Japan. I always try to follow a verse from the Bible, "Knock and the door will be opened to you." And I thought, well if I knock and the door opens, I will pass through it. It was fate that brought me to Japan, and I decided to take this next opportunity that was being offered to me. The reason I chose Australia was because of an advice from a friend I had met in Japan while studying abroad. Krithika Iyer, a native from India, was also studying at Kyoto University under the support of the Panasonic Scholarship. She and I lived in the same dormitory, and she became my closest friend. When I told her I couldn't find a Japanese scholarship, she suggested Australia. When you get a student visa in Australia, your spouse is also permitted to work. It's difficult to do that in the U.S., so I chose Australia as my next destination."
She successfully completed her doctoral studies in Australia, where she moved for the next phase of her life. Now pursuing a career as a university research fellow, Noralyn has obtained Australian citizenship, allowing her to continue pursuing her passion in research in Australia for the rest of her life.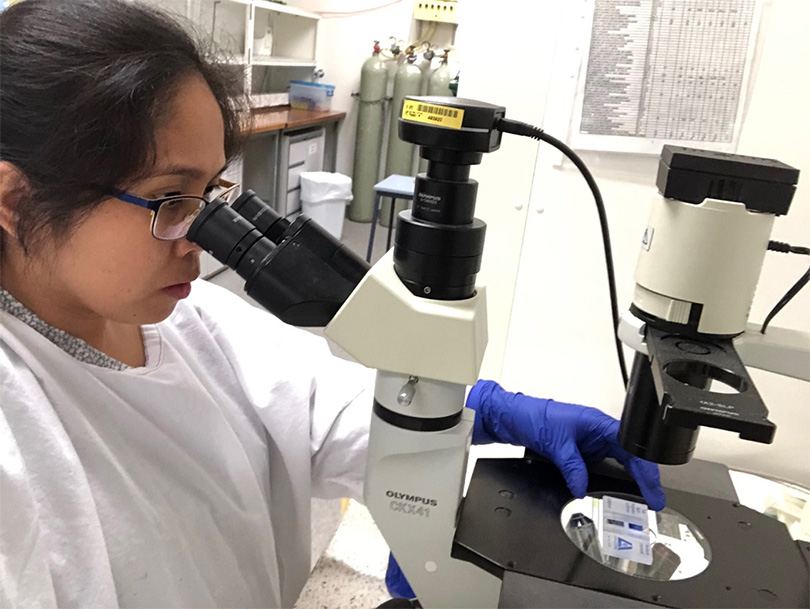 Noralyn is continuing her research on proteins in Australia.
"I still love Japan and hope to stay involved when the opportunity comes. Soon, I hope to collaborate with a Japanese laboratory working in the same field, or I may apply for a fellowship with the Japan Society for the Promotion of Science. One of my major goals in life is to someday lead my own research team to find a cure for brain diseases like Alzheimer's disease and brain cancer. Japan has a low incidence of dementia compared to Australia and Western countries, and it is also a country where lifestyle and cultural characteristics have attracted particular attention in my field of research. I would really like to visit Japan again with my family and see more of the country."