Standing where we can aim for the future.
Study abroad in Japan, the starting point of this journey.

The Chou sisters who participated in our remote interview, Ms. Chou Tsai-Lin (right) and Ms. Chou Tsai-Hsuan
〇Ms. Chou Tsai-Lin
Awarded in 2005 -> entered the University of Tokyo (Dept. of Precision Engineering, School of Engineering) -> currently employed by Panasonic Industry Co., Ltd.
〇Ms. Chou Tsai-Hsuan
Awarded in 2009 -> entered the University of Tokyo (Dept. of Systems Innovation, School of Engineering) -> employed at a Japanese subsidiary of a general consumer goods manufacturer
Joining us for the first session are two sisters from Taiwan, Ms. Chou Tsai-Lin and Ms. Chou Tsai-Hsuan. In the Panasonic Scholarship program, a scholar awarded a scholarship studies as a research student for one year after coming to Japan and prepares for the entrance examination to the graduate school of their choice. Support is provided in the form of studying and living expenses for a total of three years including two years after passing the exam. "Our lives have been stable from the moment we came to Japan, and being given a learning environment where we could concentrate on studying became the starting point for doing what we want to do as members of society," the sisters said in unison. We asked about the significance of their participation in the Panasonic Scholarship program.
Support by keeping a close eye on the "willingness to learn" in addition to school expenses
Ms. Chou Tsai-Lin, who was studying control systems in the mechanical field at Taiwan University, undertook the Panasonic Scholarship selection test in order to get into the type of research where she could tackle social issues in a more practical manner. As she looks back on her first year in Japan as a research student, she remembers being impressed that she could learn closely from world-famous researchers.
Ms. Chou Tsai-Lin: What was even more surprising was that the university instructors welcomed me, saying "we want to actively accept Panasonic Scholarship students." This is thanks to the results delivered by earlier students in the program, partly due to the fact that the program provides tuition and living expenses for three years with no requirements for repayment or subsequent employment. This was highly regarded as the scholars could focus on study and research without having to work part-time to earn their living expenses.
Ms. Chou Tsai-Lin says that the scholarship provided not only financial support but also peace of mind. The staff at the Panasonic Scholarship office also gave her considerable support through frequent advice about daily life.
Ms. Chou Tsai-Lin: Since I used to live with my parents in Taiwan, it was my first time living alone as well as living overseas. I was very worried because I had just started to learn Japanese, but the people at the office took care of me as if I were their daughter or sister, and I felt safe as if my family was watching over me. To tell the truth, I failed the entrance examination for graduate school in the fall at the university where I was studying as a research student. I would lose my scholarship for the following years if I did not enter graduate school. I was very depressed when I reported the exam results to the office. But the deputy manager of the office at the time was very kind to me, and gave me advice for the next exam based on his experience watching many scholars. He casually but also frequently asked me how my Japanese study was going, and kept encouraging my willingness to learn. Thanks to that, I was able to pass the exam for the graduate school of the University of Tokyo.
Opportunities to gain connections between home and Japan, as well as the rest of the world
Ms. Chou Tsai-Lin's study in Japan also gave her younger sister Ms. Chou Tsai-Hsuan a new perspective on her future. At the time, Ms. Chou Tsai-Hsuan was preparing to take the GRE (Graduate Record Examination = uniform examination required for admission to graduate schools mainly in the United States and Canada), the standardized test for graduate schools in North America. Having studied psychology at a university in Taiwan, studying in Japan came into view for Ms. Chou Tsai-Hsuan because of her hopes for the innovativeness in the field.
Ms. Chou Tsai-Hsuan: The psychology I studied belongs to the field of science in Taiwan. I wanted to study a little more psychology as an extension of what I learned. The University of Tokyo had a major called Systems Innovation, and it was the exact field where world-leading research was being conducted. Both my older sister and I have adored the Japanese pop culture since we were little. I heard from my sister, who was studying in Japan, about how her studies and life were fulfilling, and I talked to my mother about my anticipation for Japan as a candidate for studying abroad, combined with my envy of my sister.
"Let me at least take the test for the Panasonic Scholarship. I will take my chance, and if it does not work out, I will give up on studying in Japan." That is how she expressed her determination, she says.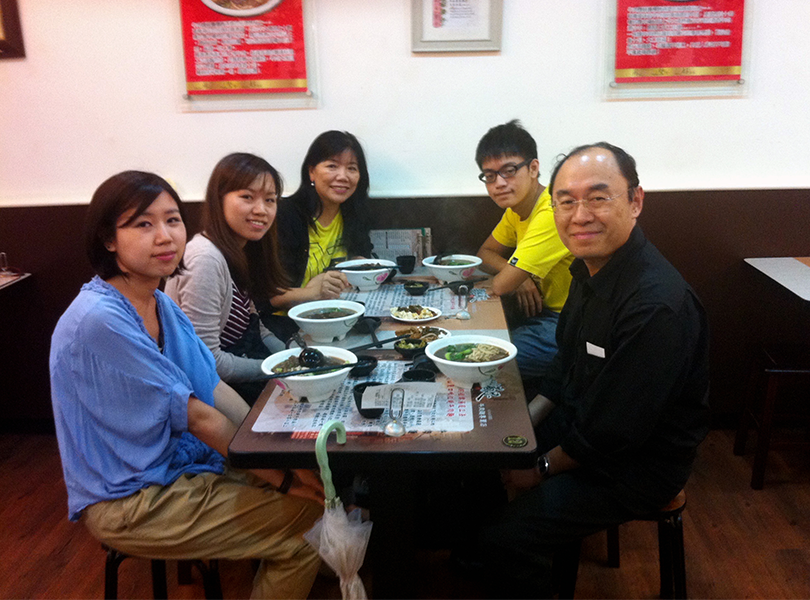 Theirs was a family of five, with their parents and a younger brother. The photograph was taken at a Taiwanese restaurant. Photograph: Courtesy of Ms. Chou Tsai-Lin
Ms. Chou Tsai-Hsuan says she made use of the chance, successfully won the opportunity to study in Japan, and obtained not only the study she had hoped for, but also an unexpected expansion in her perspective through her life in Japan. It started at the Panasonic Scholarship awarding ceremony.
Ms. Chou Tsai-Hsuan: Before entering the university as a research student, I participated in the awarding ceremony that was held in Osaka. I met my fellow scholars from Asian countries for the first time, and the step of leaving Taiwan for Japan led to a big leap called international exchange. A scholar from China I met on that day has become my best friend, and we have supported each other in our lives for more than a decade.
What they want to do now and for the future was connected from the starting point
They both found employment in Japan after completing graduate school. Ms. Chou Tsai-Lin, who works for a Panasonic Group company, says her scholarship experience played a major role in her motivation to join the company.
Ms. Chou Tsai-Lin: In addition to daily consultations, I had many opportunities to interact with the office staff during the summer at events where the scholarship students from all over the country gathered. On these occasions, I was able to see the working attitude of Japanese people up close. As I was young, I was very impressed by the "seriousness" of the people involved in the operation, not to speak of the company's attitude toward human resource development with the establishment of an international scholarship system. At that time, I was still at the age where I tended to pursue appearance and coolness when I considered my future dreams, but I learned then that "living with a true core" was actually very important and valuable.
Ms. Chou Tsai-Lin is in charge of corporate ESG (environmental, social and governance) promotion activities at her company. We hear that it has only been a short while since she was appointed to this job, but she says that she feels a clear sense of fulfillment.
Ms. Chou Tsai-Lin: Our company deals in BtoB devices, and general consumers are not very familiar with many of them. However, I believe they can bring change to the world from the inside because they are devices. In my private life, I am a mother who wishes that my two young children will have future living in a better society. When I was given a new job, I became aware that the Panasonic Scholarship really was a pioneer of the ESG activities of companies. I, who started from there, am now in charge of ESG promotion activities. I may be able to get involved in making the future for my children to some extent. I feel that kind of connection.
Meanwhile, Ms. Chou Tsai-Hsuan works for a Japanese subsidiary of a consumer goods manufacturer. She feels that the connection between what she wants to do and what she does for work is made from the learning opportunities she has received through this scholarship.
Ms. Chou Tsai-Hsuan: I have been very interested in "sustainability" for several years. Although plastics are used in the products that we handle in my current work, there are many aspects that can be improved by working from the perspective of "sustainability," including manufacturing methods and raw materials. Can we create a story that connects people and things from the perspective I learned in psychology? I have such aspirations. I feel a great sense of satisfaction in my work to provide better products for Japanese consumers and markets while riding the global trend of "sustainability."
Sisters Ms. Chou Tsai-Lin and Ms. Chou Tsai-Hsuan had the opportunity to study in Japan through the same Panasonic Scholarship. Both of them continue to work in Japan afterwards, and they look to the future based on "what each of them wants to do." They spoke in unison, "Looking back, everything on our paths had some meaning." They say that being able to take the first step in "wanting to learn," which was their starting point, with a sense of security with the support of society, was a big factor.
Ms. Chou Tsai-Lin now works for a Panasonic Group company. She says the experience she gained while studying in Japan has been very helpful. The person on the left in the photo is her current boss . Photograph: Courtesy of Ms. Chou Tsai-Lin