Creating Family Bonds & Children's Smiles
Panasonic Visual System Solutions
Did you ever dream about being able to talk to the characters in the movie screen when you were a child?
To make this dream come true, a new theater-type attraction called "Stitch Encounter" was opened on July 17, 2015 in Tomorrowland, the area that brings the future to you. The "Stitch Encounter" lets Guests "communicate" with our beloved Stitch through a huge screen. The first three rows of seats are kids' benches, made specially so that small children can experience the full excitement of the large screen, laughing, shouting and adventuring together with Stitch.
Your encounter starts with "Aloha! "

"Stitch" is an alien experiment created by a scientist of the Galactic Federation. However, he is on the run from a faraway planet because genetic experiments are against Galactic Federation law….

After crash-landing on a Hawaiian Island on Earth, he meets Lilo and becomes a member of her family. The new "Stitch Encounter" attraction brings Guests into the "Stitch Monitoring Station", a special facility designed for monitoring whether Stitch is behaving in his new life on Earth.

"Where has that mischievous Stitch gone today?" the Guests are asked as they try and follow his movements, but why is Stitch there when he should be down on Earth?!? In this theater-type attraction, Guests can experience the fun and excitement of joining together with other Guests they have never met before in following Stitch on this wild adventure! This exciting encounter all starts from "Aloha!"
Making Guests' "Dreams" a Reality
Ms. Sugihara talks about Stitch as if Stitch were her own child!
We heard from Ms. Sugihara about this new attraction.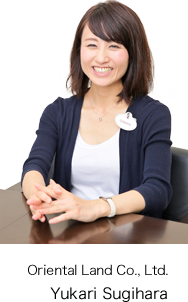 What do staff focus on in order to make Guests' dreams come true?

We are always focused on enjoying ourselves. By seeing many things and visiting many places to experience pure "fun", we can see what gives our Guests genuine enjoyment. Observing things through fair eyes means that we constantly see things from the Guests' standpoint.

What amazes you about the new "Stitch Encounter" attraction?

The high resolution large video screen is incredible. The newly installed projector ensures a crystal clear view from all seats, and makes Stitch really come to life on the big screen. This clarity and size makes Stitch feel even more real to our Guests.

Which features do you like the most?

There are a number of story variations that are designed to suit the age group or atmosphere of each group of Guests. We can see Stitch talking to his best friend Lilo, singing, and getting up to all manner of antics each time we see him. Each story is carefully designed so that we can see new expressions and experience exciting adventures together with Stitch.

What is so appealing about Stitch?

Stitch's biggest appeal is his complex personality that cannot be simply summed up in a word. Stitch is like a "large as life friend" to children, and his mischievousness reminds mothers and fathers of what it was like to be young. I hope that a wide range of Guests both young and old can share the experience of a "childlike mind" through Stitch's antics.

What would you like Guests to feel when experiencing the Stitch Encounter?

The main stars of this attraction are the Guests and Stitch, so you can have an entirely new experience each time you visit. It is definitely an attraction that everyone, no matter how old, can enjoy. I will continue pursuing these dreams so that all of the Guests say, "wow, that was so much fun!" as they leave.
Creating the Mind of a Child Through "Unity"

Stitch's great adventure unfolds on the big screen. The children become so absorbed in Stitch's adventures that they stare with eyes wide open, as if they were experiencing the adventure themselves!

For example, in some of the adventure stories where Stitch is running away from a bad guy, the whole theater joins together in cheering for Stitch, the room filled with the sense of justice for our hero. There are many times when children who are normally quiet and shy surprise their mothers by shouting "Stitch!" at the top of their voices!

We see many children cheering for Stitch, singing along, and jumping out of their seats with excitement! In just the short 12-minute adventure, you can see entirely new expressions of excitement and fun on your children's faces!
Panasonic's Help and Support
Leads the Guests to Be the Stars!
The "Stitch Encounter" attraction has fast become one of the most popular attractions so soon after opening! Panasonic has provided a wide range of technical assistance to ensure a smooth opening of this new attraction. We talked to Koichi Yoshikawa and Naohisa Kato who were members of the Panasonic Project Team that worked on developing this projector.

What is your impression of Stitch Encounter after it opened?

We provided long-term support on this project for various aspects including design and other important requests. So we were really happy to see Stitch moving around in such a realistic way when Stitch Encounter was opened to the public. Being able to provide a wide range of support throughout the preparation stages until the attraction was complete was a truly precious experience for us all.

How were you able to project the image of Stitch?

We proposed a "3-chip DLP Projector (10,600 lumen brightness)" to create an image of Stitch that can realistically and actively move throughout the entire space of the large screen during the main show. This projector has the optimum brightness required when combined with the overall lighting production and contrast. We made various adjustments to the equipment to ensure that the correct balance of brightness and color were achieved for the entire show, not just the screen.

What would you like Guests to feel when experiencing the Stitch Encounter?

We provided support for this attraction by selecting a special system that makes the dream of the Cast to make "an attraction where Guests are captivated by Stitch's world" a reality. I hope that everyone who visits Stitch Encounter really enjoys the entire experience of being in Stitch's world from start to finish.
Unlimited Bonds Joined by the DNA of
Consumer Electronics

Family. This is an eternal bond that starts from a chance encounter.

Panasonic supports the "home", where family happiness is born, through consumer electronics. We were therefore delighted to provide support for the new "Stitch Encounter" attraction that fills children with delight.

Tokyo Disneyland® is a place that can draw out the widely varied potential of children in a single moment.

Panasonic creates the moment where anyone can be the star of the show through the giant screen.

The partnership between these two companies will create countless new bonds.

We hope that the day when you become the star of the new "Stitch Encounter" attraction is not too far away!